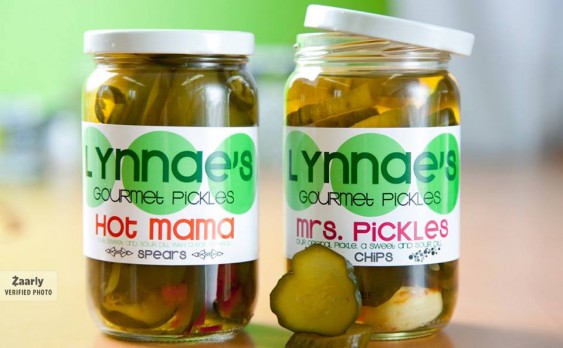 Gourmet pickles make their way into the Shark Tank during the season 5 premier on Friday, September 20. A pair of young Washington State food entrepreneurs, Lynnae Schneller and Aly Cullinane, pitch Lynnae's great grandmother's secret recipe pickles to the panel of Sharks. The pair remind me of the Wild Squirrel Nut Butter gals from season three: they're young, they make a food product, they started in their kitchen, and they're from Washington.
Whether the similarities end there or not, Schneller and Cullinane (soon to be Schneller-she's marrying Lynnae's brother) look to have a great product and proof of concept too. They sold over 1000 jars of gourmet pickles their first week in business and they have rave reviews from customers. I guess great grandma Toots' secret recipe packs some serious flavor.
Do Sharks like Gourmet Pickles?
As the second food business on the season premeir show, the two pickle girls will need the Sharks to like their wares. Pickles are a food not everyone likes, but the Sharks' mature palettes will most likely favor the flavor. The real test is whether the business has as much snap as the pickles.
Gourmet Pickles, in fact condiments in general, are a tricky proposition when it comes to distribution. Julie Busha, who wrote a guest post about her Slawsa on Shark Tank Blog a while back, could probably teach Lynnae and Aly a few things about getting their product on the shelves. Barbara struck a deal with the Wild Squirrel Nut Butter girls, but it never went through; they were a big success anyway. Can the pickle girls do well without a Shark? Maybe, maybe not.
All the Sharks on the panel have been involved with food businesses, but Barbara has the most success. Pork Barrel BBQ and Daisy Cakes come to mind – so maybe Barbara will be interested. Lori took a flyer on Back 9 Dips in season 4; maybe she's ready for another food related venture. I can't see Robert or Mr. Wonderful jumping on this as an investment, but Mark Cuban could bite for his standard 33%.
I always look at the business website pre-show to get an idea of what they're up to. The gourmet pickle girls just switched from a Zaarly site to a far more robust, hosted platform. They haven't completely finished the site from the looks of it and its limited functionality, but many Shark Tank entrepreneurs have their web solution in the works until a day or two before show night. As for the product, I personally like pickles and I think the gourmet pickle girls will leave the Shark Tank with a deal.