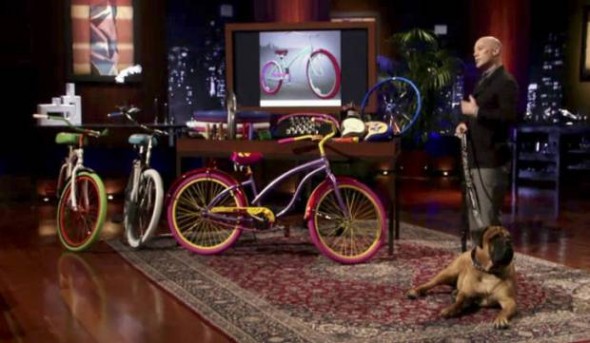 I spoke with Fleetwood Hicks recently to get a Villy Custom update and he had a lot to tell Shark Tank fans. Hicks struck a deal with Barbara Corcoran and Mark Cuban back in season three, episode 313. Hicks originally asked for $500K for 33% of the custom-built bike business and ultimately settled on $500K for 42%.
Villy Custom update on website didn't prevent servers from crashing
The Villy Custom site is an interactive gem of a site that allows you to design your own bike; it takes a lot of bandwidth to keep a site like that up. Hicks thought he was prepared: "We went overboard preparing for the Shark Tank effect. We had multiple cloud servers that we thought would handle it. They didn't. Mark Cuban was NOT happy!"
Even though there was a Villy Custom update segment broadcast in episode 404, much has changed since then. "We closed our retail shop in Dallas," Hicks explains,"we're shipping bikes nationally and couldn't justify the expense of a retail store in the Dallas market. We moved to an 11,000 square foot space we call 'the Villy Vonka Bicycle Factory.' There's a small showroom, but the focus is the online sales and growing the brand.
Working with Mark and Barbara
"Barbara is much more 'hands on' than Mark. I've visited her in New York and at her home. We speak on the phone regularly too. I deal with a team when it comes to Mark. He's super busy, but very responsive. I send out a monthly email to him and the team, updating them on what's happening with the business. Mark's always the first to reply. I could send the email at 1 AM, and fifteen minutes later he'll reply. Both of them continue  to be very involved, they're 'on it' all the time and they continue to push me. Barbara has two bikes and she loves them. I offered Mark a couple and he said 'I don't have much time for biking, save them for our customers.'"
Hicks' deal with Mark and Barbara closed in February, 2012 – so he's about a year and a half into the business relationship he forged on the show. "The whole Shark Tank experience has been very beneficial to the business. I was vacationing in Hawaii when they told me the money would be wired into my bank account. I kept checking it and then, POOF, one morning there was $500,000 in there. Shark Tank has really stayed with the company seven out of ten customers tell us they heard about us because of Shark Tank."
What's Next?
"The business continues to grow. We've sustained about five times the business we had before we aired and we're becoming a nationally known brand. We're even building bikes for other businesses. We built bikes for Boeing for aeronautic collectors. We built bikes for Crocs for their store displays and we built bikes for Southwest Airlines, Vitamin Shops and other; they use them for employee incentives and as give-aways to customers. We also did a deal with Skymall to expand the brand visibility."
"We're in negotiations with a high-end, national sporting goods retailer. We're going to give them an exclusive to sell the bikes. It was a group business decision, we know we'll give up some margin, but we think it will be good for branding. We don't want Villy Custom in every bike shop, but we think this alliance will be a good branding exercise. As long as Villy Custom continues to grow and make money – it's all good!"
Hicks wouldn't mind jumping in with the Sharks again, "I developed a bike accessory and I applied to be on again. They spoke to me a few times, but I haven't been invited back, yet."
New Mascot
On a very sad note, the original Villy passed away from cancer last year. "He was a part of the business and a part of my life. I prayed to God to put his soul into a puppy and when I went to the breeder to get a new dog, I knew which one to take home."
Hicks' Secret to Success
"I have a passion for making people happy. We make happy bikes for happy people!"
I also asked Fleetwood another question. He answers it over at The Hot Dog Truck.