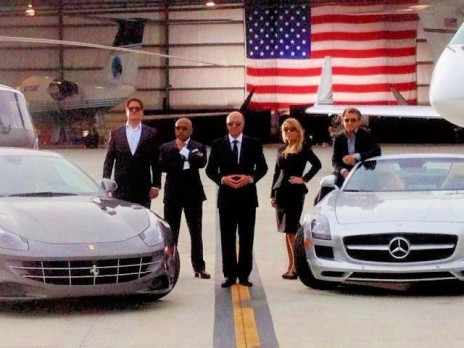 Mark Cuban, Lori Greiner, Daymond John, Robert Herjavec and Kevin O'Leary team up to make an entrepreneur a million dollar offer in Shark Tank episode 505. We've seen the Sharks make a million dollar offer before and we've seen all five Sharks team on a deal, but we've never seen all five Sharks team up on a million dollar offer.
Million Dollar Offer often a PR Smoke Screen
Last season, Mark Cuban made a million dollar offer for The Gameface Company; he offered $1 million to buy the entire business but the offer was rejected. Cuban eventually invested, but not for $1 million. All five Sharks teamed up on a deal in the season 4 premier when Mark, Daymond, Kevin, Barbara, and Robert invested in BuggyBeds. That deal was only for $250K and it still hasn't closed. It makes me a tad suspicious when ABC touts a million dollar offer on Shark Tank – just because an offer is made, doesn't mean it's accepted.
The question remains, who will get the million dollar offer, and will it be accepted. Episode 505 features a Mango Jelly business, a "man Medal" novelty business, a canine fashion accessories business, and a breathalyzer app. I don't think Mango Jelly or Man Medals would warrant a million dollar offer, so it must come down to the canine fashion accessories or the breathalyzer app.
Pooches or Apps get a million bucks?
Apps always get a lot of interest in the Shark Tank. CateApp and VerbalizeIt were two season four businesses that got their apps funded and got a ton of publicity too. Neither deal funded with the Sharks, but that didn't hurt their respective businesses one bit. Having an app that lets people know if they're legally drunk has HUGE social benefits and could be a very big seller. Is it worth a million bucks? Maybe. Is it worth entertaining a million dollar offer from all five Sharks to get buzz for the app? Absolutely.
The sleeper for the million dollar offer in the canine fashion accessories. The ABC press release (which is riddled with misspellings and appears a third grader wrote it) says the Sharks "first scoff" at this business. The question is, do they continue to scoff, or do they like  the numbers so much, they want a peice of the action?
We won't know who gets the million dollar offer until the 27th, but my money is on the breathalyzer app!