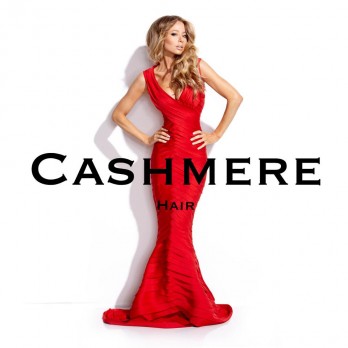 Melissa Barone and Rachel Bernstein are bringing their luxurious hair extensions called Cashmere Hair to the Shark Tank Holiday Show on December 13, 2013. Melissa, is a brunette and celebrity hair stylist and Rachel is a blond make-up artist and model who owns Sunset Blonde – a make-up accessories business. The two met while Melissa was doing Rachel's hair and they hit it off. They began searching for ways to make hair fuller and more "luxurious" for photo shoots and special events. The result was Cashmere Hair, hair extensions made from real human hair.
The hair extensions come in lengths of 18″-20″ and there are dozens of different colors. There are sample swatches available for people who want to order online before purchasing full hair extensions. They're designed to be removable and re-usable, making them less expensive than salon-applied hair extensions. Each hair extension is made from 100% Remy human hair which means the hair is cut from the cuticle, making it last longer and feel more natural.
My Take on Cashmere Hair Extensions
As a "folically challenged" man, I don't have much use for hair extensions. I'm not sure why two women who look like Melissa and Rachel feel the need to do anything to make themselves more beautiful: they're both pretty hot without added "window dressing."  I guess it's just one of those "viva la difference" things; women want to look their most beautiful whenever they can.
At $399.00 each, these seem expensive. Granted, Cashmere Hair is located in Beverly Hills, so maybe that's not a lot of money in that neighborhood. I'm not sure the masses will latch on to $400 hair extensions – it just seems like a high price. I understand human hair extensions are expensive – after all, the person who grows the hair initially needs to get paid – but I just can't get over the price tag.
Will Sharks Extend an Offer?
I don't think Mr. Wonderful will jump on board with an offer, after all he shares the same hair-do as I! Mark Cuban won't go in either, but he'll be nice about it because he doesn't like offending pretty women. Robert won't be able to "add any value," so he should be out too.
That leaves Daymond and Lori. Daymond, being the fashion mogul, may see something here, but he'll only make a very Sharky offer for a high percentage. Lori could jump in too, but she'd demand a lower price for her QVC viewers. I don't think the Cashmere Hair girls leave with a deal, but they'll be fun to watch!