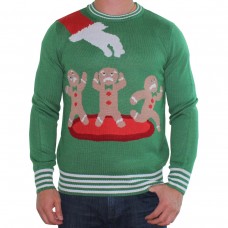 Tipsy Elves brings a bunch of ugly Christmas sweaters to the Shark Tank on Friday, December 13th. The Tipsy Elves guys, Evan Mendelsohn and Nicklaus Morton have the world's largest online store that deals in ugly Christmas sweaters. Their designs are loud, tacky, ugly, and, in some cases, wildly inappropriate. They're also loads of fun and they make GREAT Christmas gifts.
Ugly Christmas sweaters are making a comeback. People all over the world host ugly sweater parties and what was once considered garish and tacky has become oddly cool. The ugly Christmas sweater became the beneficiary of the "it's so bad, it's good" syndrome. There's even a National Ugly Christmas Sweaters day!
Besides sweaters, Tipsy Elves has sweater dresses and accessories like hats, fanny packs – even ugly dog sweaters! There's even a wolf hat that looks an awful lot like the Spirithoods from last week's show. The Tipsy Elves guys have a heart too: they donate 2 bucks from the sale of every sweater to Stand Up to Cancer.
My Take on Ugly Christmas Sweaters
Tipsy Elves looks like a fun business. They're selling a ton of sweaters, too. They ship to over 200 countries and have web sites in the USA, Canada, and the UK. I like the sweaters; some of the "inappropriate" designs are a hoot! The humping reindeer and the snowman with the "misplaced" carrot sweaters are hysterical (hint- I WANT ONE)!
I went to an ugly Christmas sweater party last year and it was a riot. So much tackiness in one room – it was like Halloween all over again! The guys who thought this concept up are geniuses. It's a niche business, but a fun niche; I just wonder what sales are like in July!
Will the Sharks Get Ugly?
Tipsy Elves has a sound business, but will the Sharks bite? I'm thinking they might if the numbers are compelling enough. The one problem they could run into is the business is too seasonal. If the Sharks hammer them on that point, it could get uglier than the Tipsy Elves ugly Christmas sweaters in the Shark Tank!
Lori could go for it – I think the sweaters would show well on QVC – the G-Rated ones anyway. I can't see Robert going for it – he usually doesn't go for apparel. Mark may like the internet approach, particularly if they are scaling it well, so he might bite. The sweaters are probably too tacky for snazzy dressing Daymond (he never met a suit he didn't like). Mr. Wonderful will undoubtedly do one of his now predictable royalty offers and make me want to throw something at the TV!
Whether the Tipsy Elves get a deal or not, they will sell a bunch of sweaters in time for Christmas, thanks to the Shark Tank effect. These guys are on a mission to make ugly Christmas sweaters "cool," and I believe they have accomplished their goal. I am IN!