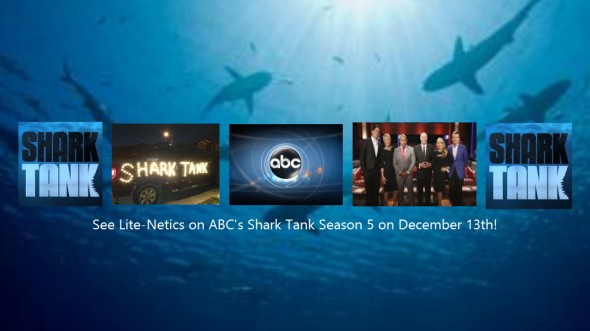 Entrepreneur Shawn Genenbacher hopes the Sharks agree that Litenetics magnetic Christmas lights promise to be "the first major improvement in Christmas light strands in years." Genenbacher pitches his product on the Shark Tank Holiday Special on Friday, December 13.
Litenetics is the latest "magnetic" solution to an old problem that appears on Shark Tank. ReadeRest and Wurkin Stiffs are two other businesses that went on Shark Tank using magnets to address common problems. Maybe magnetic Christmas lights are next. Litenetics uses high-powered magnets on each bulb housing to secure the Christmas lights to a building. Clips, hooks, screws, and tape will become things from Christmas past if Litenetics catches on.
Originally, Christmas Trees were illuminated with candles in the 19th century. Once electricity was invented, Christmas Tree lights became nearly ubiquitous. It wasn't long before those interior lights gave way to elaborate, outdoor holiday lighting displays. It's the folks who put up those displays that Genenbacher wants to sell his magnetic Christmas lights to. Since Americans spend $6 BILLION on Christmas decorations each year, the market for magnetic Christmas lights is a lucrative one!
My Take on Magnetic Christmas Lights
We have light on our tree and we put out a simple, lighted wreath outdoors during the Christmas season. We're not one of these families that creates a lighting display you can see from space, but there are plenty of them out there. People who go all out during the holidays with their lighting displays would buy Litenetics.
When I looked at all the lighting options at my local Home Depot, I realized Litenetics had a winner. Even though they're nearly $100 a strand (BEFORE buying C9 Bulbs), I think there are plenty of lighting aficionados that would buy these. The convenience alone makes Litenetics a regular, big selling item every Christmas season. I probably won't use them, but I bet many will.
Do Sharks Light Up Over Litenetics?
The whole thing about seasonal products is they give the Sharks an "instant objection." Sales numbers are important, but most of the Sharks want steady, year-round sales. That said, money talks in the Shark Tank and if sales are good enough and a Shark can help with Big Box distribution, Litenetics could see multiple offers. Mark Cuban was the Shark who saved Christmas last year when he invested in The Living Christmas Company; maybe he'll take a flyer on Litenetics too.
I can't see Daymond going for this, but Lori could be a player if she can get Genenbacher to bring his prices down a bit. Robert is so hard to read this season, but I don't think he's in. Mr. Wonderful will likely over-scrutinize this business and go out too. I am not sure if Litenetics gets a deal, but I think they will earn many new customers.
Get Litenetics in Time For Christmas!