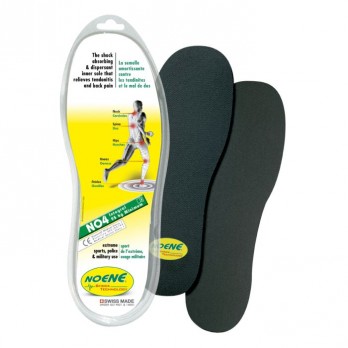 Byron Scott, a retired NFL linebacker, pitches Noene USA, a line of high-tech insoles, to the Sharks in episode 624. Noene USA is a subsidiary of a Swiss company that produces the world's thinnest and (as they claim) best shock absorbing insoles on the market today. Scott secured what amounts to a distribution agreement for the exclusive right to market and sell the products under the brand name Noene USA. To my knowledge, this is the first time an entrepreneur appears in the Tank with such an arrangement.
Shock absorbing insoles are not new (are YOU gellin?), but the technology the Noene USA insoles have are different than the standard, store-bought variety. The insoles are "thinner than a dime, yet provide more shock absorption than anything on the market. The secret is the Noene rubber, it's a patented and proprietary material. The insoles were originally designed for workers in heavy industries, but athletes and dancers soon adopted them for their purposes.
As an NFL star, Mr. Scott is in a good position to market and sell this product. The insoles are currently available online, but a Shark could help propel Noene USA onto the national retail stage quickly.
My Take on Neone Insoles
I wear insoles, I've worn them for years. When I worked in the duct business, I wore custom orthotics to help keep my feet and joints from getting beat up. I've tried many different off the counter insoles over the years, too. My biggest complaint is they are too thick and they make my shoes feel tight. Noene USA insoles advertise good shock absorption in a thin package. That's a big plus for me and for many others too.
I'd definitely try out a pair of Noene USA insoles. It's a product I buy regularly and I am due for a new set for my hiking boots. Custom orthotics and insoles are a big business – millions are sold each year with better than 50% margins and prices ranging from ten bucks to hundreds of dollars. Noene insoles roun 30-40 bucks a pair, so they're right on point with pricing. I like my feet to be comfortable and 40 bucks is a small price to pay.
Do Sharks have Sole?
The Sharks will like the product – it's a proven product with European sales figures to back it up. What they might not like is the distribution model. The parent company can attach quotas to the distribution agreement which, if they aren't met, can result in a termination of the agreement. The Sharks will need to know the details of the distribution arrangement before giving Mr. Scott any cash.
If he has exclusivity and favorable terms, a Shark could bite. Margins on insoles are 50% and up, so there's room for profit. What Scott needs to do to snag a Shark is have concrete numbers and demonstrable sales activity. The Sharks won't fund his inventory without tight assurances, so I think Mr. Scott may have trouble in the Tank. That said, he's getting a great commercial for the insoles; product recognition and sales should spike after this appearance.