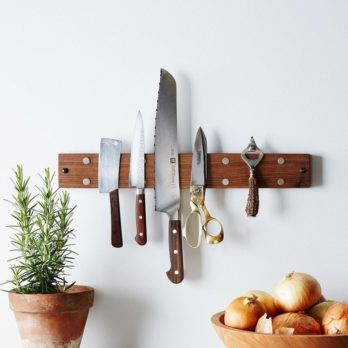 Swedes turned Californian entrepreneurs Mikael Soderlindh and Marc Lickfett hope to sharpen their pitch when they introduce KnifeAid, their mail-in knife sharpening service, in episode 1105. Both men have strong entrepreneurial backgrounds in a variety of digital spaces. They came together through a love of surfing (they purposefully located the company HQ in Malibu) and a desire to create a unique online business that was both practical and sustainable.
Thus KnifeAid was born. Good knives need regular sharpening, but it's hard to find a reliable place to get them sharpened. The guys recommend sharpening knives once or twice a year. Many knife sets come with a honing steel, which many people think sharpens knives; it doesn't. The honing steel keeps the edge that's on the knife. The KnifeAid guys say honing is like brushing your teeth while sharpening is more like getting your teeth cleaned by a dentist.
Cooking with sharp knives is a lot easier and safer. When you apply too much pressure with a dull knife, you're more likely to hurt yourself. Sharp knives also lead to better food. When you "mash" herbs and veggies with a dull knife, you release essential oils and make a less attractive cut Good cooks and chefs always have sharp knives.
Apparently the company is doing well. They charge $9.21 – $12.25 per knife sharpened. Since starting out in 2018, they've sharpened over 300,000 knives. That's around $3million in sales per year. Not bad for a start-up. You can also order a gift card so you can give the gift of sharp knives for the holidays.
Right now, they sharpen everything out in California. Since this is a shipping centric business, they likely want to open regional sharpening centers to cut shipping costs and times. The turnaround on their services is 2-9 days, depending on where you live. While the capital investment on knife sharpening equipment isn't huge, the training costs probably are. I bet they want a Shark to help them open more locations. Will the Sharks think this is a cutting edge business?
My Take on KnifeAid
When I was a kid, there was a knife sharpening guy who'd ride around the neighborhoods in our town. He was like the ice cream man, but for knife sharpening. He even had bells that rang, alerting the housewives to his presence. I remember my mom bringing her knives out to be sharpened on the spot. He always had lollipops for the kids, too. Those days are long gone and it is hard to find a place to sharpen your knives.
I have a nice set of Henckels Knives that we got for a wedding present. They're almost 20 years old. I've had them sharpened several times, most recently about a year and a half ago at our local farmer's market for 8 bucks per knife. I'd get them done more often, but I ALWAYS forget to bring them when headed out to the market. Knife Aid is a tiny bit more expensive, but the convenience is totally worth it. I am gonna give these guys a try. I'm in.
Do Sharks Hone in and Invest?
As long as Mikael and Marc aren't in the Tank for a commercial, they have a shot at a deal. If they are indeed looking to expand their number of sharpening centers, it's investable. I don't think this business is up Lori or Rohan's alley, so they likely bow out.
If Mark likes the business model and the numbers, look for him to bid for 20-25% of the business. Barbara could have interest too, but she won't have a competitive bid. The Shark who brings the most value is Kevin. He could plug this into his "something wonderful" platform and triple sales. He also has a handle on the logistics of regional shipping centers through his experience with Plated. If Kevin likes the business model, look for him to make an offer too.