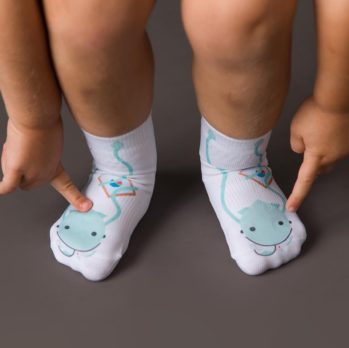 Gabe and Jessica Miller didn't have the problem they solved when they first envisioned the Squid Sock Company, Gabe's cousin did. While visiting his cousin, Gabe and Jessica noticed their toddler son was constantly losing his socks. Whether he took them off or they fell off, the socks weren't where they belonged most of the time: on his feet. The cousin muttered that someone ought to solve this problem, so Gabe and Jessica got their entrepreneurial wheels spinning.
A few years after their initial encounter with the inspiration for the Squid Sock Company, they have two "squids" of their own and a booming business. Squid Socks aren't ordinary socks for kids. They're more like a high end athletic sock, with a twist. The secret is each Squid Sock comes with the patent-pending "squiddy dots," little silicon dots on the ankle to hold socks in place. They also have dots on the sole of the socks to prevent slipping.
While socks falling off toddler's feet is a "first world problem," Squid Socks solves it. Apparently parents LOVE the product. They aren't cheap – 3 pairs cost $24 – but parents keep commenting that losing other socks costs a lot more. For the fashionista, there are a wide variety of colors and patterns. Sizing is easy too – there are just four sizes: 0-6 months, 6-12 months, 12-24 months and 2T-3T. They're available on Amazon and at Nordstroms. The company has sales, they need a Shark to scale to the next level.
My Take on the Squid Sock Company
As a father of five, I've probably had my kids lose more socks than the average guy. They're long past the toddler and baby sock stage, though my oldest may bring a grandchild into the picture in a few years. If these existed when my kids were little, we would have had them. Lord knows we had every other baby apparel item out there.
When I first heard about the Squid Sock Company, my concern was slipping and falling. When our kids were small, they went barefoot around the house because we had hardwood floors and they'd slip if they went in stocking feet. The squiddy dots on the soles solve that problem. Until I get grandchildren, I'm not a customer but as a business, I am in.
Will Sharks Like These Socks?
Since Daymond is on the panel and he had success with Bombas, he's surely going to be a target for the Millers. He probably won't bid though, since Bombas has a kids line. I really can't see Mark going for this either. That leaves Robert, Lori and Kevin.
Robert may have interest. He likes online retail and if they have decent sales, he'll make an offer. Lori could sell a ton of these on QVC. If she likes the Millers, she'll bid too. Squid Socks could fit into Kevin's "something wonderful" platform, so he could jump in as well. I think the Millers will leave with a deal from one of these three Sharks.