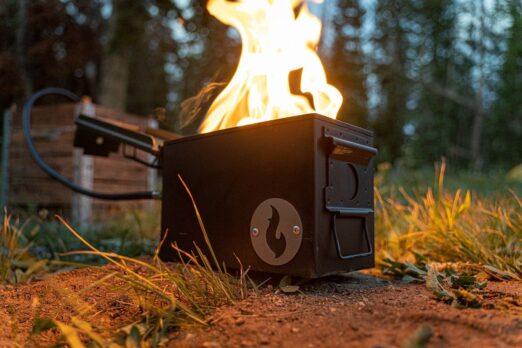 Lava Box creator Joshua Thurmond created his protable campfires in response to Colorado's ban on open camp fires in 2020. It was simply too dry to safely have an open fire in the wilderness. That's when Joshua got the idea for a durable, easy to transport portable campfire for his river/camping adventures.
Joshua is a life-long kayaker, paddle boarder, rafter and outdoor river guide. He envisioned a portable campfire in something he brought on his excursions: ammo boxes. Ammo boxes are virtually indestructable which is why a lot of outdoorsmen use them to store gear. Instead, Joshua created Lava Box: "a flamethrower in a box." Since it's fueled by propane and not firewood, there are no cinders to start a forest fire.
Basically, the Lava Box is a propane gas lead inside an ammo box. You can add ceramic charcoal for effect, too. Joshua patented his design and started building them in his garage. He couldn't keep up with the orders! With over 4000 units sold, he knows he's on to something and he wants a Shark's help building a backlog of inventory.
My Take on Lava Box
Back in the day, I was an avid hiker. My idea of a good time was strapping on my backpack and slipping into the mountains for 3-4 days. I hiked all over the White Mountains and Green Mountains in New England. We always had fires but when there were restrictions, we relied on a small, portable propane stove to cook. It didn't have the ambiance of a camp fire though. A Lava Box would have been cool, but lugging an ammo box and propane tank wouldn't have worked.
I also did a lot of canoeing and camping in various New England and Canadian rivers. Lava Box would have worked there. I think it's a very cool camping accessory if you're out of doors a lot. While not quite the same as the crackling wood of a camp fire, it's a pretty good second choice. I'm in.
Do Sharks Like Camping?
Mr. Wonderful thinks "camping sucks," so unless Joshua has off the charts sales, he'll be out. Lori will likely pass too as she's not outdoorsy. That leaves Mark, Daymond and Daniel. My "Spidey Sense" is telling me Joshua gets a deal though. Last summer (2022), Joshua told several news outlets he was having trouble keeping up with orders and had to frequently sell on a pre-order basis. As of the week of the original air date, he's fully stocked. That tells me there could be a Shark Tank deal.
Joshua seems like the type of entrepreneur that goes into the Tank wanting a deal. The Sharks will like that he hasn't spent money on marketing. Those 4000+ sales were all organic from social media posts by happy customers. I expect Mark and Daymond to make offers and possibly Daniel too. Whichever Shark makes an offer, Joshua will accept it.