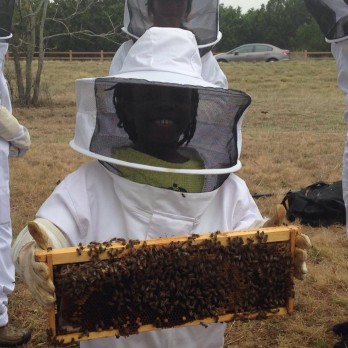 Nothing says "entrepreneur" like a kid at the side of the road selling lemonade from a makeshift lemonade stand. For many kids, running their own lemonade stand is their first introduction to business. Mikaila Ulmer is one such kid. The cute 10-year-old girl with the bright, infectious smile is taking the roadside stand to whole new levels with Bee Sweet Lemonade, her honey-sweetened lemonades.  Mikaila pitches Bee Sweet to the Sharks in Shark Tank episode 628 on Friday, March 20.
It all started when Mikaila was just 4 years-old. She got stung by a bee – twice. Like most 4 year-olds, Mikaila was upset and frightened by the experience. To help her feel better, her grandma sent her a recipe book with a recipe for lemonade made with flaxseed. A funny thing happened though, the precocious young lady became very interested in bees as a result of the ordeal. She learned everything she could about them and, as you can see from the picture above, she overcame her fears. Mikaila became fascinated with bees and their role in the ecosystem.
She also started making lemonade and selling it from stands wherever people would have her – whether it was youth entrepreneur events or out in front of her house. She brought bees, or rather their honey, into the equation and sweetened her beverages with honey. The result was Bee Sweet Lemonade. Unlike most 10-year-olds, Mikaila didn't stop at a simple lemonade stand. She got out there and got her product packaged and on the shelves at dozens of her home town of Austin's markets and restaurants. Mikaila has a penchant for doing good, too: she donates a portion of her proceeds to various organizations that help the honey bee.
My Take on Bee Sweet
I like lemonade – who doesn't? Whenever I see a kid selling it at the side of the street, I stop and grab a cup. I never tasted Bee Sweet, but I am sure it's tasty. Beyond the virtues of the product itself, the entrepreneur behind the product is what I like. I have a 10-year-old daughter and she's done lemonade stands, too. Unlike Mikaila, her product isn't in Whole Foods!
My daughter LOVES Shark Tank. We watch together and discuss the various companies and pitches. It warms my heart to see a young girl busting it out and making it happen because it shows girls like my daughter that little girls shouldn't be limited by anything but their drive, work ethic, interests, and imagination. Little girls in the US need role models like young Mikaila. While Mikaila might cringe at being called a role model, she shouldn't run from the label; girls need to be able to look up to good role models from all walks of life – even among their peers.
To be sure, Mikaila had help with her venture. Her dad, Theophilus, appears in the Tank with her. On the Bee Sweet Facebook page, Mikaila credits her mom for "teaching me so much about marketing and being a brave entrepreneur." It's obvious her parents are a big source of inspiration for the young entrepreneur. Behind every successful, inquisitive child are amazing parents – I'm sure the Ulmers are no exception.
Regardless of Mikaila's outcome in the Shark Tank, she's already a winner. Whether a Shark invests and gets her on the shelves nationally or not, Bee Sweet Lemonade will be on everyone's lips after the segment airs. I am IN 110%!
Do Sharks take a (lemonade) Stand and Invest?
Any other entrepreneur in Mikaila's place would likely face a lot of scrutiny; consumer products businesses always do. The trials and tribulations of getting a consumer product on the shelves are daunting – it's a task the Sharks aren't always willing to undertake unless the product and the entrepreneur behind it are rock-solid. While Mikaila may be "only" 10-years-old, she's sure to impress.
Recently, we saw 12-year-old Moziah Bridges of Mo's Bows in an update segment. He did not get a deal because the Sharks didn't want to cannibalize his business at such a tender age. Mikaila may find herself in the same boat as young Master Bridges, but that's not a bad thing. Daymond offered to mentor Mo and things turned out OK for him.
That said, other young entrepreneurs have Sharks as partners. Now 13-year-old Ryan Kelly of Ry's Ruffery did a deal with Barbara Corcoran and they've done very well together. Likewise for young Lily Hooks who invented ScreenMend when she was just 9; Lori Grenier helped her and her family get major distribution (and sales) for that product. Will Mikaila's fate be along the lines of Mo Bridges or Master Kelly and Miss Hooks? The simple fact is, it doesn't matter; this little girl is going to be a big success with or without a Shark!