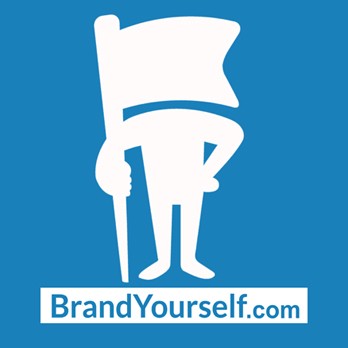 BrandYourself.com is banking on two things: people will Google their name and NOT like what they find. These days, whether you're looking for a date or a job online, somebody is going to Google your name to find out more about you. That being the case, it's good to make sure the person searching for you finds the right information about the right person. In a sense, that's how BrandYourself.com came to be. One of the founders, Pete Kistler, was looking for a job and when his prospective employer Googled his name, the results brought up convicts and child molesters with the same name!
That's not the best way to brand yourself, so he created BrandYourself.com to gain a measure of control over search engine results. Kistler's business partner, Patrick Ambron, will attempt to persuade the Sharks that their service is the next big thing in personal branding when he swims with the Sharks in episode 628 on Friday, March 20..
The BrandYourself.com service comes in three flavors: do-it-yourself free service, intermediately priced "head start" service where they'll work with you and make high-ranking pages for your personal SEO, and wicked expensive "concierge service" where they'll do everything for you and continuously update your profiles. The free service is free, the head start service is $400 plus $20 per month, and the concierge service is $400 a month. Those prices sound expensive, but competing services charge a LOT more. BrandYourself.com is banking on the ongoing importance of search engine results and personal branding, whether it's for business or pleasure.
My Take on BrandYourself.com
It's an unfortunate reality that BrandYourself.com is necessary. Not to cast any aspersions on Mr. Kistler's former prospective employer, but a reasonable amount of due diligence would have ultimately found out the truth about the "real" Pete Kistler. That said, the internet has caused many people to leave the "reasonable" out of a lot of things!
For most people, the workings of Google's search engine are a mystery. Free tools like BrandYourself.com will help a lot of people with online reputation management. Even for people with the know-how of how to "control" search engine results might find it easier to use the service.
The true test will be the paid versions, because that's where they'll make their money. It doesn't matter if they were voted Inc Magazine's 35 Under 35 Coolest Entrepreneurs or that they secured $5 million in venture funding; if people don't pay for the service, there's no business. I think people will pay, but their initial customers will be people in Kistler's situation, not every day folks with no issues. As the internet and its use matures into second and third generation users, I think this kind of service will be more prevalent.
The business side of things is where the big money is for BrandYourself.com. Businesses with an unhappy customer who is an internet troll can see poor search results affect their bottom line. Say someone hires a plumber and he's 20 minutes late. That customer, for whatever reason, gets upset and feels they have an ax to grind with the plumber. They can flood social media and review sites with scathing reviews, causing future potential customers to pass them by when looking for services and that would hurt their business. BrandYourself.com would help that plumber.
The thing that concerns me is "the dark side." Unscrupulous scammers could use the service to mask their true intentions. I've seen many instances where scam companies bury legitimate complaints from search results with various SEO tactics. BrandYourself.com will need some sort of vetting process to ensure they aren't helping a scammer manipulate the system.
With all that said (and much more to say), I think this is a good business. They have a needed service that's priced below the competition and they have $5 million to get it off the ground. BrandYourself.com looks like a winner.
Will Sharks Get Branded?
Whatever happens, get ready for Mark Cuban to start asking questions about algorithms! Businesses that come into the Tank with previous venture deals in place always have issues justifying their valuation with the Sharks. The entrepreneur usually wants more than the VC value and the Sharks usually want significantly less. BrandYourself.com did a $3.3 million round of funding about two weeks before they taped their Shark Tank segment, so it should come up in the pitch.
That said, I'm not sure BrandYourself.com walks away with a deal. It's not so much that they don't deserve one, I just think the timing of their VC funding makes it easier for them to walk away.