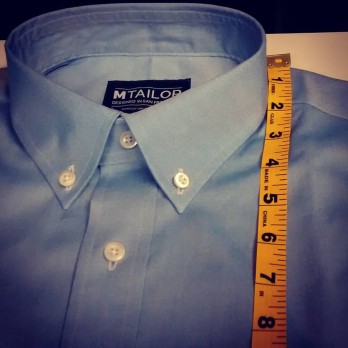 Miles Penn created M Tailor to make shopping for custom tailored clothes online easier and more precise. He pitches his solution, an app that measures men for custom tailored shirts and suits, in Shark Tank episode 721. The app is free and uses a selfie you snap of yourself (shirtless – so do it in private) and some basic information you input to give precise measurements for a custom tailored shirt or suit. Once you do that, the proprietary image mapping technology creates a complex 3D map of your body, and gives a precise size for your tailored clothes. The only thing left to do after that is pay for the clothing.
M Tailor boasts that guys will never have to go to the mall again – something most guys will probably like! The app says it's 20% more accurate than a measurement by a real tailor and the custom shirts are only $69. M Tailor clothing is roughly half what a comparable custom tailored shirt or suit would cost in a store. Each item comes with a 100% satisfaction or your money back guarantee, too. The shirts and suits are manufactured on demand and shipped out when they're made.
M Tailor has already raised over $2 million and their technology is disrupting the way people buy clothes. They likely need more cash to manage growth; what better place to get it than the Shark Tank? Will this business suit a Shark?
My Take on M Tailor
I purchased two custom tailored items in my life. One was a tuxedo, which I still have; the other was a custom tailored suit I bought in Singapore, which went to Goodwill. I don't wear suits anymore, my suit is a pair of shorts and a tee-shirt. Dressing up for me these days means slacks and a golf shirt – that's just how I roll.
Back in the day, when I was in technology sales, I wore a suit every day. I was always pushing for a more casual office attire because I'd often find myself talking to CEO's who dress more like I do today. Tech company owners rarely dress up when talking to salespeople or just working on their business; I always felt over dressed.
When I was wearing a suit daily, I probably had a few dozen suits. Most were off the rack, but I always had them custom fitted by a tailor. Custom tailored suits and shirts just look better. If I still had to buy suits regularly, I'd certainly try M Tailor. I think it will be a very successful business if they execute their plan well for the simple fact that most guys hate shopping. I am IN.
Will a Shark Suit up?
M Tailor already has the attention of the Venture Capital Crowd, whether they are profitable yet will be a big determining factor for the Sharks. If all their proverbial ducks are in a row, I see a Shark fight happening during his pitch.
Kevin O'Leary is a clothes horse, so he'll be interested in getting on board to just get some good shirts. Daymond could be an asset to this business too. I think Chris Sacca will make a play because the company is using proprietary technology to disrupt a traditional business model; he may enlist Mark as a partner, too. All things considered, I think they'll leave with a deal, the question is from which Shark?