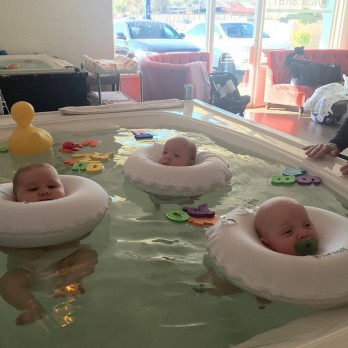 Kristi Ison pitches FloatBaby, her water therapy and neonatal massage "experience" for infants and their families, in episode 721. Ison started the business in the fall of 2015 to give babies (and their parents) a way to unwind. Babies get placed in the proprietary (patent pending) FloatBaby floating "doughnut" and bob around in a freshly sanitized tub of water for about a half hour. After the flat session, parents massage their babies with Ison's guidance.
The concept caught on quickly in the Houston area and Ison seeks to train FloatBaby "therapists" and open 10 more locations. Each session lasts about an hour and costs $65. Benefits of the spa treatment include a higher level of alertness, better eating patterns, better sleeping patterns, and increased strength.
Kristi doesn't make her doughnuts available for sale, they are only for use in the FloatBaby spa. There are likely a number of reasons for this. She probably wants to protect them from getting knocked off and liability issues likely factor into that decision. Ison is looking to the Sharks to help fund her expansion; will a Shark float her some cash and invest?
My Take on FloatBaby
My first impression on this business is the babies look so cute floating arround in their FloatBaby doughnuts! As a father of five married to a 23-year (and counting) swim coach and former Canadian Olympic Qualifier, I KNOW the benefits of getting the kids into the water at a young age. All our children were plunked into the pool well before their first birthdays – one even swims in college now!
Babies spend their entire time in the womb in water, so it's their first environmental experience. In Russia, they throw infants into the pool (without floats) as early as six weeks and the little buggers swim around. (DON'T try this at home without proper training and supervision) My wife had our kids "swimming" at around 5 months. I can't speak to their development as infants anymore, but they are all strong swimmers and they are all in good shape as young adults (and one tween). We never did any massage, but I am sure they would have enjoyed it.
I think if Ison has an enthusiastic clientele that recognizes the benefits of floating and early introduction to water, she'll do big business. Parents ALWAYS want what's best for their kids. Just because she's touting early introduction to water, I am IN.
Will Kristi Swim with Sharks?
On the FloatBaby Facebook page, there is a post that says "Which Shark is ALL SMILES during our presentation?" She also boasts that she's 100% booked for the week leading up to her episode's air date – does this have anything to do with the Sharks?
Mark and Chris Sacca have younger kids, so they'll be interested in this business from a parental perspective. Whether that translates into a business relationship is another thing. As always, a strong plan and solid sales will be what wins over the Sharks.
Similar "experience" businesses have fared well in the Tank. Barbara invested in The Coop – the hip birthday party spot. Mark invested in Rugged Maniac and Haunted Hayrides. FloatBaby is an experience for infants and their parents, and at $65 a pop, it ought to be profitable. Kevin and his "Wonderful Platform" target wedding related businesses because he thinks people spend irrationally on weddings; how long will it take him to realize they spend irrationally on kids – especially newborns?
I think any one of these Sharks could make an offer on FloatBaby, provided there are no skeletons in the closet and the business is profitable. Just don't let the Sharks in the water with the infants!