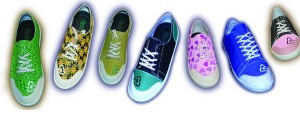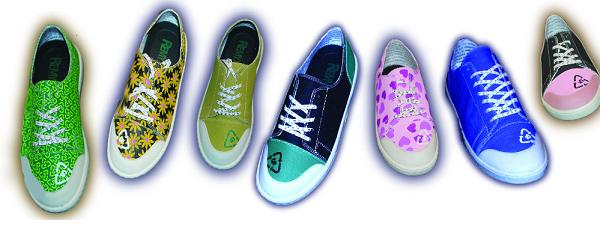 ReKixx sneakers may or may not be familiar to Shark Tank fans, but ReMyxx Sneakers ought to ring a bell. ReMyxx Sneakers founder Gary Gagnon got a deal on the air from Daymond in episode 312, the season three finale of Shark Tank. Since then, Gary changed the name to ReKixx. Episode 312 has a re-run on Black Friday, so I caught up with Gary to see how things were going with Remyxx – I mean ReKixx.
Why the name Change from ReMyxx to ReKixx?
Branding a product on Shark Tank is a powerful vehicle for brand recognition. Entrepreneur Gary Gagnon successfully used his Shark Tank appearance and branding for his 100% recycled sneakers to drive a big chunk of backers to his successful Kickstarter campaign. Gary elaborated on the thinking behind the name change.
"Bottom line on the name change is, no matter how you spell it, the 'remix' space is very crowded. 'Remix' is not associated with sneakers or apparel, most versions of the word are music related, and there was potential for a trademark issue. Since ReKixx was one of my favorite original thoughts on names 3 years ago, it made great sense. I have ReKixx trademarked now."
ReKixx Kickstarts its way to Orders
Gary had set up his Kickstarter campaign as a pre-ordering mechanism. If you helped fund the business, you got product in return. I called this use of Shark Tank publicity genius at the time, and Gary has proved me right with the successful launch of ReKixx!
"My point to running a Kickstarter project along with the show was to capture the exposure and convert it to sales. Where I was only two weeks into the business with finished sneakers appearing on the show, and zero sales, the ultimate point was to prove product viability with real consumer interest. With no inventory to offer and basically a website as a landing page, I used Kickstarter as my eCommerce platform to sell sneakers and test the market. All said, with $44,000 in pre-order sales, it was a big success!!"
With my success on Kickstarter, I continued to study the market and did a lot of networking within the industry. I have my first inventory arriving in December and I will be selling ReKixx cool, 100% recyclable, sneakers  online at www.rekixx.com. With my rerun this Friday, I have actually set up the website that you can buy now and be the first of the first to get ReKixx.  I expect the limited stock will move quickly. Seriously, from what I have found and heard, from people a lot smarter than me, ReKixx is positioned to be THE eco-fashion leader in all of footwear."
Shark Tank Kickstarts ReKixx Kickstarter
Gary tracked his Kickstarter campaign meticulously. Gary has the numbers to bear out the exactly how much his Shark Tank appearance was "worth" to ReKixx. "On Kickstarter the numbers are tracked day-by-day. Specifically, on the Friday night of my show, I captured $8,465 in sales.  I went from $9,482 on Thursday before the show to $17,947 on Saturday. In credit for the week, Friday night plus the 6 day carryover to the following Thursday, sales grew to a total of $26,385.  I can say my Shark Tank episode earned me exactly $16,903. Perhaps what is most appropriate to say here is, while for the days leading up to the show I was scaling well on my own, I am grateful to give substantial credit to Shark Tank. Without Shark Tank I expect it would have been difficult to reach the $40K goal for ReKixx. In the same respect with Shark Tank alone, I would not have reached my goal."
"Without tooting my own horn, I worked diligently for most of the 45 day ReKixx Kickstarter campaign to push web traffic, reaching relevant bloggers, online magazines, celebrity sites, eco-friendly groups, tweeters, face-bookers, fellow Kickstarters, and other various media outlets. I contacted anyone it seemed to make sense to promote the campaign and bring in ReKixx sales $65 dollars at a time. All together it was exhausting, exciting, a lesson well learned, and an achievement I am proud of, but I am glad it is over."
 Where does ReKixx go from here?
With the pending arrival of the first production line of ReKixx sneakers, Gary is anxious and excited. "December is 'the moment of truth' with the arrival of the first-ever ReKixx stock. This will really be the start of ReKixx as a brand. I will have sneakers in the market place, I will have 496 backers wearing product and promoting the ReKixx effort of sustainability, I will be connecting with my following, I will have sneakers samples (sales kits) to share with other channels of distribution, and I will have sneakers for sale to the broader public."
"I am glad to have had the Shark Tank experience, as crazy an adventure it was. Lots of waiting, unknowing, you get only one shot pressure, components running beyond your control, and the aftermath. Over 100+ contacts reached out to me after the show, with only 3 or 4 positive connections landing that will last a lifetime. I have made a handful of fellow Shark Tank entrepreneur friends, too. Having access to Daymond was the best part for me, as is the joy of my wife and kids cheering me on all along the way."
Parting Words from ReKixx creator Gary Gagnon
"Stay tuned to see what I can do with what I am creating as a grass-roots initiative with a pair of sneakers. Yes, a unique pair of sneaks, and yes, Sneakers with a Purpose™,  yet still a pair of sneakers. When I say, 'ReKixx cool sneakers 100% recyclable are a one of a kind brand, a one of a kind sneaker;' that is about fashion, awareness, and sustainability. It is the people I trust most that will follow for ReKixx and eco-smart success."
Gary also answered THE QUESTION over at The Hot Dog Truck.