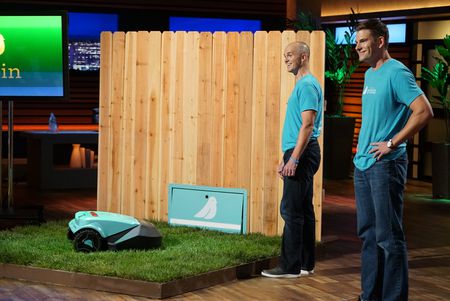 The Robin Robotic Lawn Mower wants to change the face of lawn services everywhere. People spend billions on lawn care – mostly on a crew of guys to come in and cut the grass with gas powered mowers. Robin is an electric mower that cuts the grass without any human help at all. Picture a Rhoomba that cuts your lawn and that's what they offer.
Justin Krandel and Bart Lamont  saw the potential in robotic lawn care. They operate a Dallas area landscape business and they got tired of workers that wouldn't show up and rain delays, so they created the Robin Robotic Lawn Mower. They don't actually make the mowers, they're made for them by John Deere, Honda, Husqvarna, and Bosch who brand them specially for Robin.
When you hire Robin, they place an electric mower on your property. It mows when it needs to and Justin and Bart – or one of their crews – comes by weekly to trim and edge. The guys want to franchise their landscaping business model with the help of their Robin Robotic Lawn Mower. The one proprietary thing they have is a special access door that goes in your fence (if you have one) so the mower can move through the whole yard.
They tested the concept in Dallas and customers were happy. Their biggest problem was mower theft which they are combating with GPS tags. Their goal is to grow the franchise business while selling mowers on the side. They hope a Shark wants to cut in on their business when they pitch it in episode 912.
My Take on the Robin Robotic Lawn Mower
Electric mowers aren't new – they've been around for a long time. They work by putting a perimeter wire under the ground on your property – like an invisible dog fence. The mower moves around inside the perimeter and cuts the grass – retreating to its charging station automatically when done. I actually looked into a Robo-Mow dealership a number of years back, but decided against it.
While I like the idea of a robotic lawn mower, I'm not sure about their business model. It cuts down on personnel for sure, but creates a host of other headaches – like the theft problem. Educating the public is tough too. Getting people to change their mindset just to make a sale is a tough sell. It could work for established landscape companies, but starting a Robin franchise from scratch is going to be hard.
Do Sharks think this Business Cuts It?
The biggest objection is Robin, besides the patented fence door, has nothing proprietary. If they made the mowers, they'd have a stronger pitch. What they're really pitching is a franchise business model and without a proprietary product (no the door doesn't count), the Sharks won't bite.
This is a classic "good idea, but too many moving parts" business in the Tank. Between capital investment, massive education to the public, and no real product, it will take too long for a Shark to get a return on their investment. It's a journey the Sharks aren't willing to take.