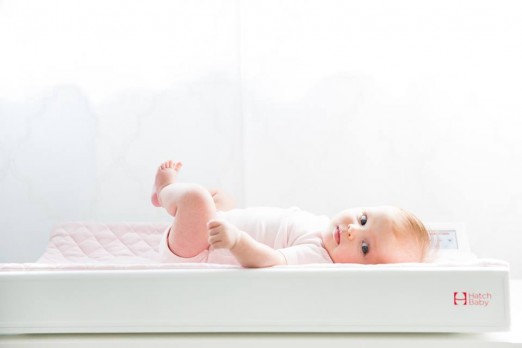 We have smart homes, smart cars, smart phones, even smart beds – why not a smart changing pad? With the ever-increasing ubiquity of automated, app-enabled devices, it was just a matter of time before baby products started having smart features. Baby monitors have been around for two decades and now Hatch Baby is stepping things up a notch with a smart changing pad that lets you track baby's length, what baby weighs, eats, and poops. All this data is then stored and analyzed in an accompanying smart phone app. The app tracks the data collected by the smart changing pad and compares it with developmental norms as put forth by the World Health Organization. In the future, Hatch baby smart changing pad users can compare their child's data with other babies in the system.
Ann Crady-Weiss created Hatch baby, along with her husband, Dave, after the birth of their first child. Ms. Crady-Weiss was constantly worried about her child's development (as many first-time parents are), so she looked for a technology-based solution to help track her child's development – and to ease her mind. Ann and Dave bring Hatch Baby to Shark Tank episode 707 after already getting $7 million in outside venture funding from True Ventures.
Millennial parents are increasingly turning to technology to help them raise their kids. Whether it's through online chat rooms to share information or a smart changing pad, if there's an app for it, these parents want it. Tracking a child's development used to be intuitive or, in extreme cases, a pencil and notebook exercise. Smartphones do away with the need for such antiquated methods!
The Hatch Baby smart changing pad contains a digital scale that allows parents to track baby's weight and get a clear picture of how much they're eating. It also tracks bowel movements and sleep patterns. Panicky parents can track the data and be reassured that their child is developing normally or alerted if the child falls below established developmental norms.
The product was born from Ann's worrying about her baby's development. She felt she could ease her own mind, and the minds of other mothers, by addressing her need for information with technology. Her mission is "to bring parents a series of smart products that use technology, data, and modern design to help make caring for a baby a lot easier." Perhaps the smart changing pad isn't the only product up the Weiss' sleeve and Hatch Baby will grow into a smart products brand for babies. Can they convince a Shark to join them in turning child-rearing into an app?
My Take on the Smart Changing Pad
Long time readers know I have five kids. When they were little, we took care of them the "old school" way: we paid attention to them. If we had a question, we'd ask our mothers for advice, or look for answers in What to Expect: The First Year (incidentally – there's now an app for the book too). If we were very concerned, we'd call our pediatrician, who also happens to be old school: her office is in her house.
I was blessed with healthy kids and I know the pain and anxiety that parents have when their child is not well or has developmental concerns, so I get the part about the worrying; but at the same time, I think there is WAY too much emphasis on knowing so much. It's training a whole generation of worry-wart, helicopter parents. What's next – an app that tracks your child's breathing patterns and heart rate while they're at school so you can monitor them there too?
But I digress. I would probably never go out and buy this for my kids if it were available when they were small, but I'll bet dollars to doughnuts someone would have gotten one for us for a gift. My kids are still not ready to pop out grandchildren, but I have visions of the poor babies being wired to umpteen different devices with smart phone app tracking systems. Call me old-fashioned, but give me a barefoot, well-informed, breast-feeding, earth mother type over a smart device any day! I may be a parental Luddite on this one, but I know MILLIONS of parents will be IN.
Do Sharks Get Smart with Hatch Baby?
Despite my mild ranting about my feelings about the smart changing pad, I think it's a great business idea. There are millions of babies born in the USA each year, so the market is being constantly replenished. There are twice as many anxious parents who'd scoop this product up. Data freaks will love how the app tracks everything, too.
The Sharks should see the intelligence behind the product. And the design looks comfy and cozy for baby as well. While it's still a baby product, it's not another gimmicky "toy" like most of the baby products that appeared on the show. The fact that Hatch baby raised $7 million so far ought to raise some Sharks' eyebrows, too.
Hatch Baby is basically launching their product on Shark Tank. It's normally priced at $299, but they're offering a $100 discount for the show and delivering their first load of products in January. The fact that it was "pre-revenue" when they made their pitch earlier in 2015 may hurt their chances for a deal, but I predict at least one Shark will make an offer. They're just lucky there aren't any Luddites in the Shark Tank!