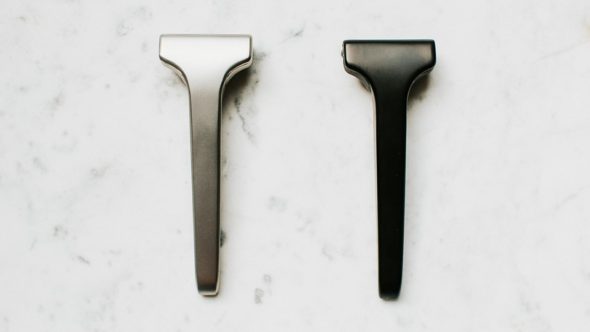 Patrick Coddou started selling Supply Razors online as a side hustle while he was an international jet fighter salesman for Lockheed Martin. His interest in razors goes back to 2012 when he co-founded Brick Blades, a now defunct business with "the singular mission of developing the ultimate single blade shave."  It was that business that evolved into Supply Razors. Patrick also dabbled with selling razors as an affiliate with a website called Razorpedia where he reviewed popular men's and women's razors.
In August, 2015, Patrick and his wife Jennifer decided they could make their own razors and sell them. They were both somewhat obsessed with the old school, single blade injection razor. Patrick claims this kind of razor gives a much closer, "bump free" shave thane the ubiquitous multi blade razors on the market today. Those razors tend to pull at your hair, resulting in more bumps from ingrown hairs. A single blade razor just shaves whiskers without any gimmicks. That's what Supply Razors sells. In early 2017, Patrick and Jennifer decided to take the leap. They decided Supply wasn't going to be a side hustle any more – it was going to be their full time business. Patrick quit his job and went all in.
Supply Razors give a nod to Pat's aerospace past: the handles are made from aircraft quality stainless steel. They have a sleek, fighter-jet like profile to them, too. For $79.00, you get a 100 year guaranteed handle in one of four finishes: classic matte, mirror finish, jet black and black matte. Each handle comes with a six month supply of blades and replacement blades (available in cartridges of 20) cost just fifty cents each. The Coddous took the plunge into entrepreneurship; now they're diving into the Shark Tank. Will a Shark think this is a sharp idea and invest?
My Take on Supply Razors
I've tried a lot of different razors in my life. I've done Dollar Shave Club, Dorco, Harry's and all the major retail brands. What I've found is shaving is an expensive endeavor! Lately, I've been buying cheap, single blade disposables. They don't last too long, but they give a nice, close shave.
Supply Razors caught my eye because I remember my dad using single blade injector razors when I was a kid. I also like their price point over time. Sure, they whack you pretty hard with the $80 handle up front, but if it only costs $6-$12 per year for blades going forward, its far more economical than buying even the cheapest disposable blades. The shave is probably better too because they sell a high quality blade. I am mulling over buying one, but I am in on the business.
Will Sharks Hone in on a Deal?
Razor companies have not fared well in the Tank in the past. Angel Shave Club, a monthly razor box program geared at women did not get a deal. Too much competition in the space was one of the major objections from the Sharks. Lori and Kevin bid $500,000 for 7% of Manscaped, but that deal fell through. Can Supply Razors overcome the Shark's objections?
What they'll need to do is have strong sales and a good percentage for the Sharks. I can't see Lori or Dan getting involved, the business isn't in their wheelhouse. Mark won't want to be in a crowded razor market, so he's likely out too. Kevin may make an offer just to spice things up, but it will be too "Sharky" for the Coddous.
That leaves Robert. Supply sells online. Robert likes those kind of businesses because there aren't a lot of moving parts. People who can sell a lot of product online without retailoutlets appeal to him. If Supply gets a deal tonight, it's going to come from Robert.