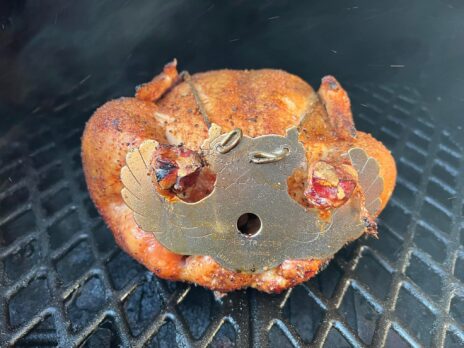 Kirk Hyust and Brian Halasinski invented the Turbo Trusser so they wouldn't have to tie their chickens up with strings when they cook them. The invention has gained customers world-wide from Michelin rated chefs to backyard barbecue aficionados.  The Turbo Trusser works on ducks and turkeys too.
The business is currently a side hustle for the two men. They each work full-time jobs while packing and shipping products during nights and weekends. Turbo Trusser is a metal plate that secures the legs with hooks that secure the wings. It eliminates the need for cooking twine. If you ever bought a rotisserie chicken, you've seen cooking twine. The Turbo Trusser is safe in the oven, in a rotisserie, on the grill or smoker and even the fryer.
The guys started the business in March, 2021 and have accumulated around $75,000 in sales. They're also in around 75 stores scattered across the USA. They say they want to get a Shark to help them with marketing.
My Take on The Turbo Trusser
This is something I'd use about 6-8 times per year and I can see how it would come in handy. I like to smoke chicken and this tool would make it a little bit easier. I like to rub my chicken in Everglades Seasoning and smoke it for hours. It's so good!
At $14.99, it won't break the bank either. I'm a bit of a sucker for kitchen gadgets, so I'll probably pick one up.
Do Sharks Like Chicken?
I can see this getting the "it's a product, not a company" objection from Mark. Robert doesn't usually go for things like this either. The other three Sharks could be interested however.
Barbara will bid if she likes the guys. If Lori thinks it could sell on QVC, she'll make an offer, but I think "Chef Wonderful" will win the day. Look for a low equity royalty deal from him.