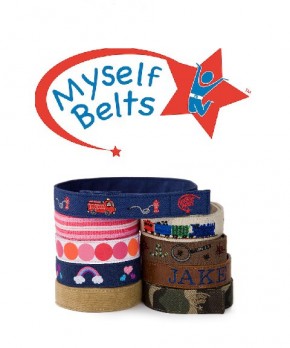 Talia Goldfarb hopes the Sharks find a fit in their portfolios for her belts for kids, Myself Belts. Talia invented Myself Belts with her sister back in 2004 when she realized there were no belts for kids that were easy to put on without parental help. Her own son was very independent and wanted to dress himself, but putting on a belt was always an issue.
What she did was create traditional looking belts in leather and canvas with Velcro fasteners to hold the belt in place. Many of the belts come with cute kid designs and there are leather belts – complete with a slide on buckle (for looks) for dressier occasions.
Talia makes Myself Belts for adults in brown and black leather, too. The adult version came about when she realized many adults have dexterity issues and would benefit from the "one hand fastening" Myself Belts allow.
In addition to belts for kids, Myself belts sells books that build kids' self esteem. When you buy a belt AND a book together, the company donates a Myself Belt to a child in the Head Start Program.
Myself Belts has won numerous awards and accolades from dozens of parent and industry groups in the ten years they've been in existence. They currently sell online on Amazon, but I think Talia wants to scale up to big box retail.
My Take on Belts for Kids
I believe we had a few of these belts back when my kids were younger. I remember belts with Velcro fasteners and Talia has a patent, so they must have been Myself Belts. They were good for small kids, in fact, I remember thinking I wished I had a belt with Velcro! This idea is one of those "why didn't I think of that" ideas. Velcro is used on EVERYTHING from shoes to outerwear – why not belts?
Expanding beyond belts for kids to adult sizes is a good idea too. I imagine the adult belts will last much longer than the kid sizes, since kids will outgrow them quickly (I believe ours went in a bag to the Salvation Army). The ease of use makes Myself Belts a winner, I'm IN (with a size 36)!
Will Sharks Belt Out Praise for Myself Belts?
Myself belts is probably a good example of a company that wouldn't be on Shark Tank if they still had the 5% producer's royalty. They've been in business ten years and they've done over $1 million in sales for the past several years. The products appeared on QVC in August, 2010 and sold over 5000 units. If Talia had to give up 5% just to appear on Shark Tank, she probably would have passed on the opportunity.
With numbers like that and a strong, online sales presence, more than one Shark will likely try to take a bite. Robert and Mark usually don't go for clothing items, so they're probably out. Mr. Wonderful will bid, but his offer will be ridiculous and likely involve a royalty.
The two Sharks that should vie for a piece of myself belts will be Daymond and Lori. Lori will like the fact Myself Belts were successful on QVC in the past. Add some Shark Tank hype and Lori Grenier to the equation, and Talia could easily triple her past QVC sales numbers. Daymond may have an interest, but his relationship with Mission Belts could prevent him from investing due to a conflict of interest. So look for Myself Belts to do a deal with Lori.
Who thinks I'm right?