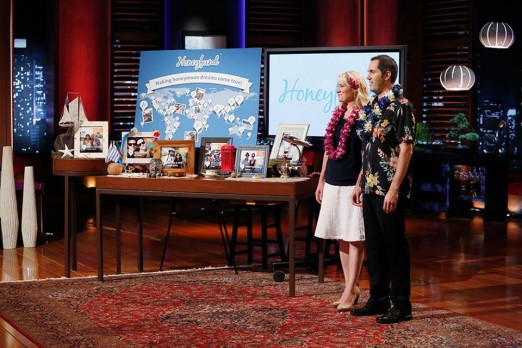 The best part about getting married is the honeymoon and Josh and Sara Margulis want to help people pay for their trip with Honeyfund, a free, online, honeymoon gift registry service. They'll pitch the business to the Sharks in episode 604.
The couple started Honeyfund when they got married back in 2006 because the "other" honeymoon gift registry sites they found didn't meet their specific needs and were too fee-intensive. Sara, who has a background in internet marketing, and Josh, who has a background as a digital imaging software engineer, set out to make a honeymoon gift registry site that had low fees and didn't force couples to book travel through the site. The Margulises also run Plumfund, a Kickstarter-like crowd funding site.
Couples register with Honeyfund, then set up different honeymoon "experiences" (like airfare, a romantic dinner, a sailboat cruise, etc.) that their wedding guests can fund. It's kind of like Kickstarter for honeymoon travel. Guests can contribute online or print a gift certificate to present at the wedding along with cash or a check. The end result is people can help couples have a great honeymoon – a memory that will last a lifetime – instead of another set of candlesticks.
The basic site is free, but you can upgrade to a package that has bells and whistles like slide shows, fancier designs, and photos of you desired destination. Couples can have all funds giving through the site deposited directly into their PayPal account. Honeyfund funds can be used for anything from a down payment on a house or even a new car. Honeyfund doesn't set up the honeymoon, they just collect funds. They make their money on transaction fees for processing online payments.
Research shows experiences are valued higher by people than things, so what better way to give a good memory than helping a newlywed couple go on a dream honeymoon?
My Take on Honeymoon Gift Registry Sites
I got married twice, once happily. Both times, I went on a honeymoon which I paid for out of my own funds. The second time I got married, we already had all the housewares we needed and we had our honeymoon paid for. What we really needed was a new living room set! My parents organized a low-tech crowd funding campaign and collected cash to go towards a new living room. Many people on our guest list contributed to this fund and we ultimately got our new living room set with the money my folks collected. My wife and I were both surprised and delighted with this useful and thoughtful gift.
Of course a lot of people just gave us a card with money and we got some sundry household items we needed (my wife set up an online wedding registry for the few needed household items). The cash, which was pooled by my parents, for the living room was awesome. I can see how putting a site up for a honeymoon gift registry would be a cool idea, particularly for couples low on funds. Most people want to give a gift the newlyweds will cherish and enjoy – what better gift than a memorable honeymoon?
Detractors call the concept "crass," and some folks in the older generation can't quite grasp the concept, but in general, Honeyfund and other sites like it are well received by couples that "get it." I spoke with a nanny at the pool who recently got married and they used Honeyfund to go to Hawaii for their Honeymoon. She explained she'd been living with her new husband for a couple of years and they already had enough "stuff," so it was nice to get funds for a dream honeymoon they otherwise would not have been able to afford. With more people getting married later and/or living together before getting married, the demand for honeymoon gift registry services is likely to grow.
I would certainly use this type of service if I was getting married again. I wonder if it works for second honeymoons?
Will the Sharks Marry Honeyfund?
The honeymoon gift registry concept is fairly straightforward and the Sharks should be able to figure it out, but will they see a good investment opportunity? This pitch will come down to straight numbers. The amount of transaction fees Honeyfund collects will be a good indicator of the value, so their initial ask needs to be spot on, or the Sharks will bail out quickly.
The other issue is how they can scale this business further. As far as I can tell, this looks like a simple business. Their costs are time and server space, not much else. It's not like a Shark partnership will aid the Margulises in getting more exposure, Honeyfund is well-known in the space. There are other honeymoon gift registry sites, and they all have a slightly different approach to get the newlyweds to the same goal.
The biggest objection Honeyfund faces is anyone could set up a site like this, market it, and become a player in the same space overnight. While branding is an issue too (and Honeyfund has done well at that), it wouldn't be a difficult business model to duplicate; it's just not a proprietary company. The only way I see Honeyfund getting a deal is if it's a sweet deal for the Sharks.
I love the concept, but I don't think any of the Sharks will like the investment.
Related articles across the web