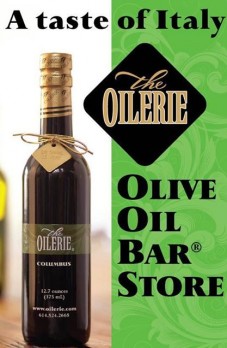 Olive Oil Bar franchiser Curt Campbell hopes the Sharks want to cook up a deal for the Oilerie in Shark Tank episode 604. Curt and his wife, Amy Jo, opened the first Oilerie in 2003 in Fish Creek, Wisconsin. They've since franchised their olive oil bar concept to 6 more locations: Brookfield, WI; Columbus, OH; Hilton Head, SC; Lake Oswego, OR; Maple Grove, MN; and St Paul, MN.
The Oilerie is now the largest hand bottler of extra virgin olive oil in the USA and they want to get bigger. The company also sells aged Balsamic vinegar, spices and dips, snacks, nut oils, pasta, pesto, olive oil based beauty items and more.
The olive oil bar concept is pretty simple: the Oilerie has different olive oils available for customers to sample and they bottle the oils by hand for customers to take home. Their oils come from a small town about and hour south of Rome, Italy which are created by an olive oil "master."
A big part of the success of the olive oil bar concept is the numbers for the franchisee. To purchase an Oilerie franchise will set you back $37,500, plus the costs of a retail storefront and other start-up costs. Campbell claims the original Fish Creek olive oil bar does "just shy" of $1 million in sales per year with 65% gross profit. That store is only 325 square feet, so rent isn't too high, and has 4-5 employees. That's a tidy profit for a fairly simple business!
Mr. Campbell is likely looking to fuel expansion with the help of a Shark.
My Take on the Olive Oil Bar Concept
Extra virgin olive oil is a staple in many kitchens, including mine. I usually have two or three different varieties in the house. I do ALL the cooking in our home and olive oil is a staple ingredient in many dishes and recipes. Anyone who cooks uses olive oil. I have not tried the Oilerie's oils, but I have no doubt they are the highest quality. At seventeen bucks for a 12 ounce bottle, they're in line with premium olive oil prices. Anybody who wants the best will be used to dropping this kind of dough on quality oils.
The setting I envision for the Oilerie is like the many specialty food shops you find in fine shopping areas. I've seen hot sauce shops, jelly and jam shops, even mustard shops in a variety of retail settings, so I get the specialty food concept Campbell's emulating. I almost always buy something in these types of shops, particularly if I have a taste of something and I like it. Why should olive oil be different?
What really intrigues me is the income one of these shops generates.  The Fish Creek store makes about $600K per year – not too shabby for a shop of only 325 square feet. My wife and I are looking to move south in a year or two and we want to start a business. I showed her the Oilerie and she liked the numbers – we are going to look into the feasibility of one of these franchises wherever we decide to go (we are fact-finding early next year for our new home). Whether Campbell gets a deal or not, he's sure to find more than a few interested franchisee candidates.
Can Sharks Swim in Olive Oil?
Campbell looks like he's going to get a "comedy edit" based on the previews for this episode, but that could be ABC messing with us. The Sharks aren't too keen on specialty franchise concepts – with the exception of Tom and Chee, I can't remember another getting funded. Sub Zero Ice Cream's pitch is somewhat similar to the Oilerie in that they had nearly a dozen successful franchisees when they appeared. I did a Sub Zero update at a Florida franchise and it was good; they told me they were doing good business, too. The Sharks did not invest in Sub Zero, however.
Campbell's margins will surely impress the Sharks, so he may have a shot at a deal. This business is more up Barbara's alley – she goes for food related products more than the other Sharks – but she's not on the panel tonight. I don't think Lori, Robert or Barbara will bid, so that leaves Mark and Mr. Wonderful.
Mark may bid if he feels he doesn't need to babysit. His Shark persona this season is he'll bid on businesses when the entrepreneur answers the right questions and he feels he can add value without being too "hands on." Mr. Wonderful likes specialty food niches and he clearly loves money, so if Campbell has good enough margins and a good enough partnership offer, he could be a player.
I don't think Campbell ultimately does a deal, but I think he'll double the number of franchisees (or more) as a result of his appearance. He's already got me as a "hot prospect!"