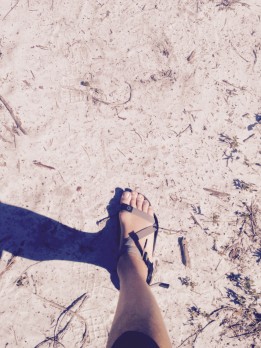 Steve Sashen never got a deal in the Shark Tank for Xeroshoes, his barefoot running sandals, but that was before he created the new Amuri Z-Tek sandal. The Sharks might have liked them a bit better.
Steve sent me the original version of Xeroshoes a few years ago. I laced up the huarache style sandals and wore them everywhere! I like walking around bare foot, but I don't like stepping on sharp objects; that's why I like Xeroshoes so much – they were like tires for my bare feet.
Now, Steve's come out with the Amuri Z-Trek. It's more of a "sport sandal" like a Teva than it is like original Xeroshoes. Since there's over 100 inches of snow in Boston, I had Steve ship a pair to me in Florida while I was vacationing with family. I wore them everywhere from the fishing pier to the beach to the bars. It was nice to be barefoot in February.
Amuri Z-Trek Review
The Amuri Z-Trek is just as comfy as the original Xeroshoes, but it has a few advantages. First and foremost, there's no assembly required. Simply use the sizing tool on the Xeroshoes website and order them. They come out of the box ready to wear.
The straps are fastened on the sides of the sandals, too. With the original Xeroshoes, you had a knot on the bottom of the sole which periodically snipped off (usually at an inconvenient time). There's also no toe thong, which can be irritating at times.
I was already a Xeroshoes fan, now I'm an even bigger fan of the new Amuri Z-Trek!
Amuri Z-Trek contest
To celebrate the new sandals, Xeroshoes is giving away over $1,000 in prizes – including some new sandals. You can enter and check it out on the Xeroshoes website. Winter isn't going to last forever, so make sure you get geared up for sunny weather with the new Xeroshoes Amuri Z-Trek sandals.