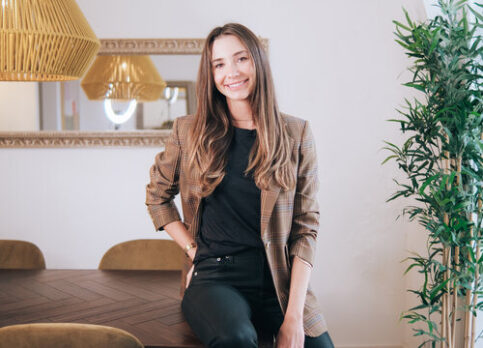 Today, we're here to shine the spotlight on a revolutionary dating coaching service for men, Dating by Blaine, owned by the charismatic and relationship-savvy Blaine Anderson. Blaine's journey to entrepreneurial success is about to reach new heights as she gears up to appear on the hit TV show, Shark Tank. But before we dive into that exciting news, let's learn more about this extraordinary dating coaching service that has already taken the dating world by storm.
Blaine Anderson: Where Dating Meets Transformation
Blaine Anderson founded her dating coaching service with a mission to empower men to become the best versions of themselves in the world of dating and relationships. Her unique approach combines expert advice, personalized coaching, and a deep understanding of human psychology to help his clients navigate the complexities of dating with confidence.
Featured in Top Publications
Dating by Blaine has garnered widespread attention, with features in renowned publications such as Forbes, Cosmopolitan, The New York Post, and The New York Times, among many others. Her expertise and innovative strategies have made him a sought-after dating coach in the industry.
What Sets Blaine Anderson Apart
So, what makes Dating by Blaine stand out from the crowd?
Tailored Approach: Blaine understands that one-size-fits-all advice doesn't work in the realm of dating. Her coaching is personalized to each client's unique needs and circumstances, ensuring that they get the guidance they need to succeed.
Confidence Building: Blaine's coaching isn't just about finding a date; it's about building lasting confidence. She helps clients overcome insecurities, fear of rejection, and social anxiety, enabling them to approach dating with self-assuredness.
Communication Mastery: Effective communication is key to any successful relationship. Blaine equips her clients with the tools to express themselves authentically, connect on a deeper level, and build meaningful connections.
Online and Offline Expertise: In today's digital age, online dating is more prevalent than ever. Blaine offers guidance on crafting compelling online profiles, engaging in meaningful online conversations, and transitioning to offline dating seamlessly.
Shark Tank Appearance
As Blaine Anderson's reputation continues to grow, she's poised for an even bigger breakthrough as she prepares to pitch her dating coaching service on Shark Tank. This high-stakes platform will allow her to secure the investment needed to expand her reach and impact more lives positively.
Join Blaine on Her Journey!
Whether you're a seasoned dater looking to up your game or someone who's just dipping their toes into the dating pool, Dating by Blaine  is here to help you succeed. Keep an eye out for her appearance on Shark Tank, where she'll undoubtedly make a splash!
Follow Blaine Anderson and her dating coaching service on social media to stay updated on her Shark Tank journey and the valuable dating advice she shares regularly. It's time to unlock your dating potential and embark on a journey to fulfilling relationships with Blaine by your side!