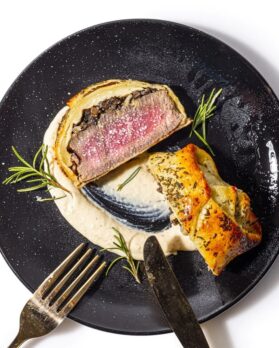 Wellys will get you ready to embark on a culinary adventure like no other? Meet Wellingtons, the sensational ready-made beef Wellington company that's revolutionizing the way you enjoy this timeless classic. Owned by the dynamic duo, Arya and Tasha Alexander, Wellingtons is all set to make waves on the next episode of Shark Tank, and we couldn't be more excited!
From Freezer to Feast: Wellingtons' Wellys Make It Effortless
Imagine indulging in a sumptuous beef Wellington (they call them Wellys) without the hassle of hours spent in the kitchen. That's exactly what Wellingtons is all about! Arya and Tasha have taken this iconic dish and transformed it into a convenient and accessible culinary delight. Their ready-made, frozen beef Wellys are a godsend for busy individuals and food enthusiasts alike. With Wellingtons, you can have a gourmet meal ready to impress at a moment's notice.
The Flavors That'll Make Your Taste Buds Dance
But wait, there's more to Wellingtons than just the traditional beef Wellington. Arya and Tasha have expanded their menu to cater to every palate, offering a delectable range of flavors that'll tantalize your taste buds:
Classic Beef Wellys: A timeless favorite, featuring succulent beef tenderloin, rich mushroom duxelles, and flaky puff pastry, all in perfect harmony.
Breakfast Wellys: Start your day with a savory twist! This Wellington boasts scrambled eggs, crispy bacon, and a hint of cheese, encased in buttery pastry.
Buffalo Chicken Wellys: For those craving a bit of heat, this version combines tender chicken, zesty buffalo sauce, and cream cheese for an explosion of flavors.
Cheeseburger Wellys: A nod to the all-American classic, this Wellington includes seasoned ground beef, cheddar cheese, and a dollop of ketchup, all tucked inside golden pastry.
Nutella Wellys: Satisfy your sweet tooth with this delightful dessert Wellington, featuring the creamy goodness of Nutella and ripe bananas, enveloped in a flaky, buttery crust.
Join the Excitement on Shark Tank!
Arya and Tasha Alexander are taking their culinary creation to the next level by appearing on the hit show Shark Tank. Their passion for transforming comfort food into gourmet experiences is sure to captivate the sharks and viewers alike. With their innovative approach to making classic dishes accessible and delightful, Wellingtons is poised to become a household name.
So, mark your calendars and get ready to witness the journey of Wellingtons on Shark Tank. Whether you're a foodie looking for convenience, a host in search of the perfect party appetizer, or just someone with a love for fine dining at home, Wellingtons has something special in store for you.
Don't miss out on the chance to savor the exceptional flavors and convenience that Wellingtons brings to your table. With Arya and Tasha Alexander at the helm, this company is destined for greatness, and we can't wait to see where their culinary adventure takes them next!