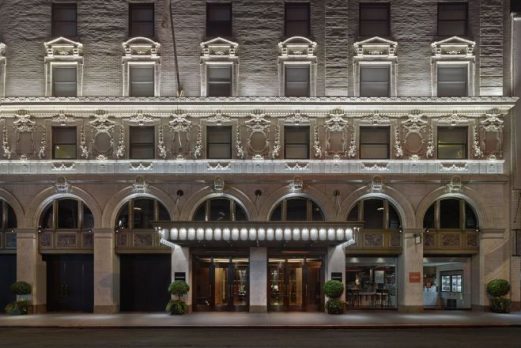 Planning a Daycation can be just as hard or even harder than planning a regular vacation. When you go out for the day, you have to bring everything with you and you don't have a "home base." Hotels by Day hopes to change that. Brian Dass and Yannis Moati, a couple of travel and hospitality industry veterans, started the business to give travelers a different option and to let hotel owners cash in on unused rooms.
Imagine you're flying into a city for a one day meeting. After a three-hour flight, plus all the other travel hassles, you're dumped downtown with nowhere to go to freshen up. The solution: Hotels by Day. Grab a room for just a few hours and take a shower (or a nap), brush your teeth and just unwind before and after your meeting. You're flying back home later in the day, so you don't need a room for the night – why pay for it?
Say you want to spend a day in town with the family. Instead of relying on public restrooms, you can have your own room for the afternoon. Scenarios like this are why Hotels by Day exists. They see a trend, with lots of folks opting to take a daycation instead of full-blown vacations. They hope the Sharks the concept when they pitch the business in episode 817.
My Take on the Daycation
I'm three stop lights from the beach – I LIVE on vacation! I remember when we lived in Boston, I'd take the kids to Maine for the day. One motel rented lockers and showers for people on a daycation. We had a spot to stash our stuff and get cleaned up without dealing with scuzzy public restrooms. The rental included parking, too. Hotels by Day takes the daycation idea to another level. They coordinate with top hotels in big cities where there are likely many daycationers or business travelers on any given day.
I'll have to admit, when I first started looking at this company, I thought it could be a bit sleazy. When you hear about people renting hotel rooms by the hour, images of illicit affairs come to mind. I'm sure more than one Hotels by Day customer has taken a "roll in the haycation" with the service, but they don't market it that way. The business is intelligent and provides a win/win for customers and hotel owners alike.
For that reason, I'm In.
Do Sharks Rent Rooms?
Hotels by Day is kind of like AirBNB light, but with real hotels. If a Shark gets involved, there better be strong sales. I don't think any Sharks want to build this business from the ground up. Hotels by Day makes their money by taking a percentage of the booking cost as a commission. They provide the app, the hotel owners provide the room. It's a purely transaction based business.
They better have a LOT of transactions for a Shark to get on board. The real deal here is the technology and the relationships Daas and Moati created during their years in the hospitality business. Anyone can create an app that performs the same way, but not anyone can get hotel chains and owners to buy into the concept. While it certainly isn't a proprietary business, they seem to have it perfected.
The real issue is if hotel owners got smart and started offering daycation rates on their own, Hotels by Day is out of business. That could scare the Sharks away from offering on this one.