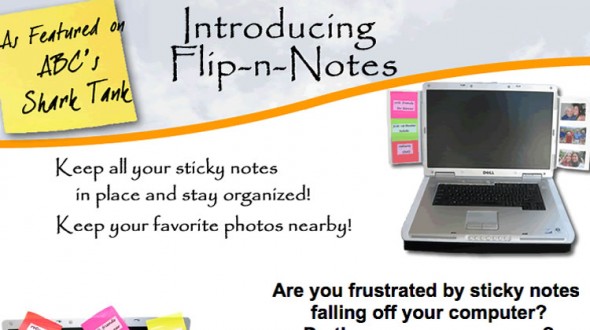 Mary Ellen Simonsen comes to episode 102 of the Shark Tank with her idea, called Attached Notes, or Flip-n-Notes, for organizing sticky notes. Her product attaches to the side of a laptop monitor, providing storage for up to 9 sticky notes and three photographs. She believes her product will "revolutionize" the way computer users organize their notes. Will the Sharks bite on this wacky idea? Or are Flip-n-Notes bound for the final resting place of all scratch paper- the rubbish bin?
Attached Notes – a.k.a. Flip-n-Notes Shark Tank Recap
Simonsen enters the Shark Tank asking for $100,000 for a 20% stake in her company. She comes in looking quite confident in the appeal of her product. She demonstrates how her Flip-N-Notes attach to the sides of the laptop, folding in for easy storage when the laptop is closed. The product resembles a plastic document sleeve, but is narrow enough to comfortably fit on the sides of the computer and hold the sticky notes.
Robert Herjavec remarks; "So, you've created a sticky pad for sticky pads," eliciting chuckles from the other Sharks. Kevin O'Leary wants to know "why this is worth a half a million dollars." Simonsen demonstrates how the product folds inside the laptop, making it convenient and portable. The Sharks are unimpressed. O'Leary asks how many she's sold. Simonsen has no sales. She cites the numbers of laptops sold in the US. O'Leary asks what the cost would be for the product. She replies that they'd sell for $9.50. Mr. Wonderful's response is less than wonderful.
"Stop the madness! Are you out of your mind? No one's going to give you ten bucks for that thing." He's out.
Robert Herjavec wants to know "why this is not the worst product I've ever seen." Simonsen cites the numbers of laptops sold again, but Herjavec responds that 0% of billions is still $0. She responds that "this is solving a problem that everyone has."
Daymond John remarks that he doesn't have that problem. He's out. Kevin Harrington says that without sales or orders, he sees no potential. He's out. Barbara Corcoran likes the product, and thinks they might sell for $10 on a QVC direct marketing market, but without sales or a patent, she's out. Robert Herjavec, the final Shark, asks if she's spent any of her own money developing the product. When Simonsen says she's spent about $1,000, he tells her, "That's the good news," and that she shouldn't waste any more time or money. The final Shark is out, and Simonsen leaves the stage without a deal.
Attached Notes – a.k.a. Flip-n-Notes Shark Tank Update
In spite of the apparent usefulness of the product, without a Shark's backing, it seems Simonsen was unable to get her idea off the ground. Today, her only web presence is a website showcasing her product and noting that "investors are being sought," with her contact information.
Laptop stickynote users will have to find other ways to keep their scribbled notes organized. The Flip-N-Notes boat has sunk.
Attached Notes – a.k.a. Flip-n-Notes Information