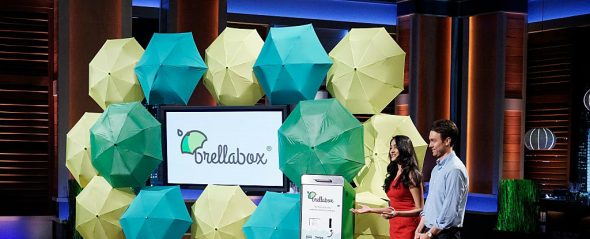 Anusha Kambhampaty and John O'Connor hope the Sharks buy into Brellabox, their New York City-based umbrella sharing company, when they appear in Shark tank episode 724. The idea is simple: provide sturdy, re-usable umbrellas at convenient locations through their patent-pending umbrella vending machines. People who get caught in the rain won't have to purchase flimsy umbrellas that usually break and get thrown away; now they can simply rent an umbrella for a few hours, or buy a sturdy, Brellabox umbrella. Think of it as Zipcar for umbrellas.
The locations are listed on the Brellabox app, so finding a machine is quick and easy. The pilot program in New York City was a resounding success and the company will roll out in many universities – including Michigan State and Penn State – in the coming year. They are also negotiating with large corporate campuses and hotel chains for machine placement.
The company makes money by selling or leasing the machines and umbrellas. There are also advertisements on the umbrellas, which creates another revenue stream. They likely need a Shark to help with capital investment for new machines and with expanding their reach. Will a Shark get this company out of the rain?
Brellabox Shark Tank Recap
John and Anusha come to the Sharks seeking to soak the Sharks for an investment of $400,000 in return for 20% of 'BrellaBox.
Although they've had some press coverage and have been contacted by universities about installing the boxes on campus, the Sharks are skeptical. Mark Cuban wants to know about the numbers. John explains that they charge $1.50 for a 12 hour rental. Unreturned umbrellas cost $40.
John explains that they give the universities an 85/15% split, with the company making 85%. They also allow advertising sponsorship on the machines and on the umbrellas to increase profit. The Sharks have a mild interest until John explains that the product has been released in a trial run, but the umbrellas were free during the run.
Kevin O'Leary hates the idea. He tells he pair that he will "stop this madness now," because this is "maybe the worst idea I've ever heard on Shark Tank." He's emphatically out.
Mark Cuban wants to know more about the breakdown of cost and profit. To build a limited run of 50 machines, the cost is $1,150 per machine. The cost drops to $975 if they order 200. The umbrellas makers offer the product to fill the machines for free, as a brand promotion tool.
Daymond John isn't buying the convenience of the idea. He believes that renting an umbrella while it's raining, and the nuisance of returning the umbrella later are prohibitive.
Chris Saca lives in California, and he says his shirts are practically rain proof, so he's not interested. He's out.
Barbara Corcoran wants to know about pre orders. John explains that they have one university contracted for four boxes, and two others in negotiations.
Mark Cuban says "It's a lot of money for a small share in the company." Due to the valuation, he's out.
Barbara Corcoran believes that it's too early and that, since the company is pre-revenue, she's out.
Daymond John respects the entrepreneurs' work ethic, but he doesn't think the idea can take off, either. He's out, and John and Anusha leave the Tank with no Shark deal.
Brellabox Shark Tank Update
In spite of the Sharks raining on their parade, John still believes the valuation is fair based on the company's potential. It's clear from a blog post on the 'Brella Box site that he took Kevin O'Leary's criticisms of the business model personally.
Since appearing on Shark Tank, 'Brella Box has kept working to improve the box's price and reduce its footprint to make it more attractive to potential customers like cities and universities. They were able to land a contract with Penn State, and increase the trial settings in NYC. The company is growing slowly, but has not yet gone under. Coming to the Sharks pre-revenue is always risky, and it seems that the risk didn't pay off for Brella Box. Whether they'll end up with sunny days ahead or rained out remains to be seen.
Unfortunately, in April, 2018, this company shut down.
Posts About Brellabox on Shark Tank Blog
Brellabox Company Information
Video