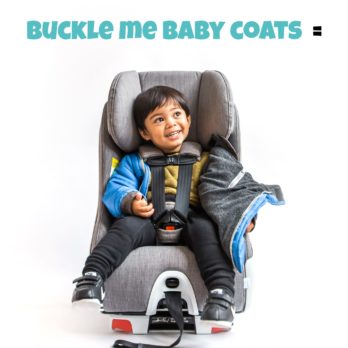 Dahlia Rizk hopes to secure an investment for Buckle Me Baby, her line of coats for kids that fit into car seats, in Shark Tank Episode 1207.  As a New Hampshire mom, Dahlia knows about cold winters. She also knows the puffy winter coats kids wear create both a hassle and a safety hazard when buckling kids into cars seats. Traditional winter coats don't provide a snug fit in a car seat and kids have been thrown from their seats because of it.
The Buckle Me Baby coat has heavier insulation in the front. There's also a flap in front you pull aside to snugly buckle your child into his or her seat as if they were wearing no coat at all. Once the kid is buckled in, flip the flap back over and the child is safe and warm in their car seat.
Dahlia got the business going with a successful Kickstarter campaign that raised $6,088 back in March 2017. Now she's selling on Amazon and her website. She's so concerned about child safety, she'll ship a coat for just 25% down with no credit check. The company also offers a $20 coupon when you trade up from a "gently used" Buckle Me Baby Coat to a new one. She also donates the used coats to a variety of area children's charities.
This mom with a mission wants to see every cold weather climate child in her coats. To do that, she needs broader distribution. She's hoping a Shark can help with that.
Company Information
Video

Posts about Buckle Me Baby on Shark Tank Blog
Buckle Me Baby Shark Tank Recap
Dahlia enters the Shark Tank seeking $100,000 for 10% of her business. She explains her product and the Sharks review her samples. Very soon, the offers start coming in.
Barbara offers $100,000 for 20% of the business. Kevin says he's not greedy and offers $100,000 for 2.5% equity plus a $2 per unit royalty until he recoups $300,000. Daymond offers $100,000 for 20% of the core business and 30% of any licensing deals he brings in. Dahlia counters with 15% to Barbara and she says no. After some deliberation, she goes with Daymond.
Buckle Me Baby Shark Tank Update
The Shark Tank Blog constantly provides updates and follow-ups about entrepreneurs who have appeared on the Shark Tank TV show. I appears the deal with Daymond did not go through. Dahlia is not licensing to anyone. As of May, 2022, she's doing $6 million in annual revenue.