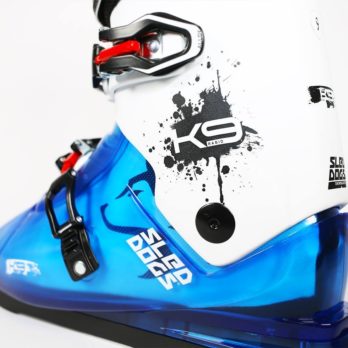 Kevin Greco hopes to skate away with a Shark's cash for Sled Dogs, his skates for ski slopes, in Shark Tank's Holiday Special, Episode 1207. The company began in Norway in 2014 and spread throughout Europe. Greco obtained the distribution rights for the USA and seeks to grow the business here. Easier than skiing or snowboarding, Sled Dogs literally let you skate on snow. They attach to regular ski boots like skis. Just strap them on and off you go.
Kevin is a Utah native who grew up skiing. Prior to becoming the head of Sled Dogs USA in 2017, he was into data anlytics for sales and marketing. He even spent a little over a year using those skills for Space-X. Ultimately, he wanted to combine his personal passion with his work, which is why he got involved with the company.
You can buy "ski skates" on the company website. They're also available for sale or rent at top ski resorts in Colorado, Utah, California, Vermont, New Hampshire and more. Kevin wants to grow the brand and consumer awareness and get his product into the retail ski sales channel. A Shark may not ski, but they know business and Kevin hopes one can help.
Company Information
Video

Posts about Sled Dogs on Shark Tank Blog
Sled Dogs Shark Tank Recap
Kevin enters the Shark Tank seeking $350,000 for 10% of his business. He gives his pitch while showing videos of people skiing and says he's creating a whole new sport. There are other competitors, then he points out what makes his skis better. He joined the company in 2017 as a distributor and now he owns the  global brand.
In 2017, he put down $100,000 for North American distribution rights. he went on to become a "sales monster." His sales overwhelmed the company's supply chain and they couldn't pay him. They had a choice: hand him the keys to the store or compete with him. They chose the former. Besides his initial $100,000 investment in the distributorship, he invested another $150,000 and raised $200,000 to acquire the company. Now, Kevin owns the whole business worldwide.
The skis cost $100 to make and sell for $350. Sales were $660,000 in 2017. 2018 had $997,000 in sales. For 2019, ODR Skis projects $1.5 million in sales. The company hasn't been profitable yet. Daymond wonders if Kevin would stab him in the back too – he says no.
Daymond likes the  product, but he goes out. Lori says she loves Kevin, but she's not a skier; she's out. Mark thinks Kevin is a remarkable entrepreneur, but he doesn't ski; he's out. Mr. Wonderful thinks $1.5 million in sales is a tiny amount in the multi billion dollar ski equipment industry; he's out. Barbara is on the fence. She tells a story about when she sold her company a key employee held her up for $1 million. If Barbara didn't give her the $1 million, she would leave the company and kill the sale. Barbara gave her the money. Because of that experience, she doesn't trust him; she's out.
Sled Dogs Shark Tank Update
The Shark Tank Blog constantly provides updates and follow-ups about entrepreneurs who have appeared on the Shark Tank TV show. The business was so inundated with orders they sold out. Partially due to supply chain issues as a result of Covid-19, they were unable to keep stocked up until spring, 2021. As of July, 2021, they are back in stock. In July, 2023, they boast over 10,000 riders and have annual revenue of $2.5 million.