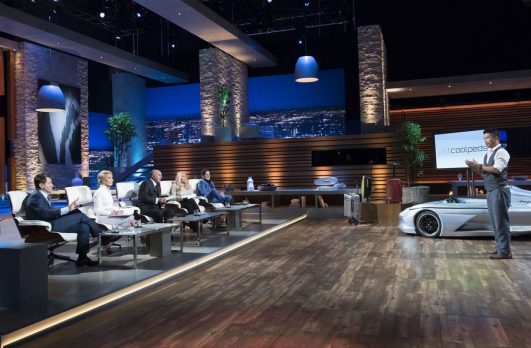 Tony Chan peddles CoolPeds, his electric scooter that's also luggage, to the Sharks in episode 921. Chan makes and markets the scooters and electric bikes which he sells on the CoolPeds website. Chan got his businesses going with several IndieGoGo campaigns that raised a little over $20,000 from 2015-2017.
The basic scooter is a three wheeler powered by an electric motor. On the steering post, there's a brief case, backpack or carry-on luggage attached. Chan markets to the urban commuter who travels less than five miles. The scooters are bus and subway friendly, so getting around a city is fairly easy. They cost $479. Chan also sells a folding electric bike for $599.
The other thing Chan pitches is the Ampere electric sports car. Ampere is CoolPeds' partner company. The two seat sports car debuted at the 2017 auto show in Los Angeles. It was a huge hit. It's currently available for pre-order for only $9900 (including a free electric bike). They plan on going into production in the Spring of 2018. The company took pre-orders in early 2018 at CES in Las Vegas. The vehicle boasts a 150 mile range per charge – perfect for zipping around town. Chan hopes to get a charge out of the Sharks for his electric vehicles. Will a Shark want to amp things up and invest?
CoolPeds Company Information
Video

Posts About CoolPeds on Shark Tank Blog
Cool Peds and the Ampere Electric Sports Car
CoolPeds Shark Tank Recap
Tony enters the Tank seeking $250,000 for 5% of his business. He gives his pitch while the Ampere car remains mysteriously cloaked onstage, then he invites the Sharks to try the scooter. Kevin tries it and almost wipes out a stage hand. Robert asks what's under the sheet and Tony reveals the Ampere car. Before getting to that, Kevin wants to know sales figures on the scooters. He's done $500,000 in sales in the past 18 months. The scooters cost $170 to make and they sell for $399. As for the Ampere, it is still in the prototype phase. It is the first fully-electric sports car and it will sell for under $10,000. They're following Tesla which started with a roadster.
Mark says they're selling the cool factor and he'd "be a fool to sell cool," he is the first Shark out. Barbara thinks scooters in the airport would be chaos; she's out. Lori wouldn't know how to sell a car; she's out. Kevin says 5% doesn't even get him out of bed and that Robert would be a better partner. Robert says he has to invest in either the car or the scooter, not both; he's out too.
CoolPeds Tank Update
The Shark Tank Blog constantly provides updates and follow-ups about entrepreneurs who have appeared on the Shark Tank TV show. Unbeknownst to myself and the Sharks, at the time he taped this episode (February 2018), he had a two year old unfulfilled IndieGoGo Campaign for electric bikes. He raised $43,000 and change and never delivered a single bike. A consumer advocate got involved and one backer got his money back; the four others who had contacted the advocate received bikes in 2019; they were defective to the point of being unsafe to ride. IndieGoGo has now banned Chan from using their site. Read the whole story about this fiasco HERE.
As of June, 2021, they're still taking orders for the Ampere car – sounds fishy to me. They also claim to sell an electric scooter, the electric briefcase and an electric moped scooter. Strangely, their Facebook page hasn't been updated since 2019. A quick search indicates there are people who put deposits down on their Ampere cars want their money back. There are also Better Business Bureau complaints of malfunctioning or undrivable scooters. The products are no longer available on Amazon and there is no "contact us" button on their website.
As of July, 2023, the products are still for sale on the company website but social media hasn't been updated since January, 2019. While this company looked cool, I'd steer clear.