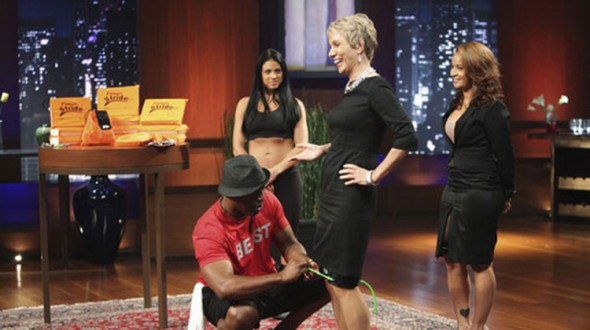 In episode 203 of the Shark Tank, Stacy Erwin pitches his Fitness Stride exercise bands in hopes of scoring a Shark deal. Erwin was in college when he began searching for an easy, inexpensive way to build a workout routine into an everyday schedule. The product consists of two straps which attach with hook-and-eye technology around each leg. The bands are then stretched between the straps, providing resistance for the user when they walk or move around. The Fitness Stride can be worn while doing activities like housework or mowing the lawn, or used to enhance a fitness routine. Will the Sharks take a bite at this simple fitness tool, or will they snap it back and leave Erwin high and dry?
Fitness Stride Shark Tank Recap
Erwin is looking for $140,000 in return for a 15% stake in his company. He strides into the Shark Tank oozing machismo and confidence. He claims that his product will solve the obesity epidemic in children, address lower back pain, tighten abs, and tone and firm various muscle groups.
A pair of models demonstrate how the product works, and Erwin hands out samples to the Sharks to try for themselves. He tells Barbara Corcoran "I have something special for you, Babygirl," earning laughter from the Sharks. He asks Kevin O'Leary, Robert Herjavec, and Daymond John to try the product out. Barbara Corcoran and Kevin Harrington howl with laughter, watching Herjavec and John stagger a bit as they try to get their balance with the bands.
The Sharks get down to business. Daymond John wants to know if the company is growing. Erwin explains that his challenge is the marketing. He needs to get word out about his product, in order to boost the sales. Last year, he sold $150,000 worth of product and made $60,000.
Daymond John questions his valuation of $900,000. Robert Herjavec wants to know how he's going to take $150,000 to over a million. Kevin Harrington asks for testimonials. Erwin has one person who he claims has lost 150 pounds using the bands.
Kevin O'Leary calls the product "a marketing nightmare." He's out. Robert Herjavec cites the cost of marketing, and goes out. Kevin Harrington, the infomercial guy, feels that the lack of testimonials is too big a weakness. He follows the other two Sharks out. Only Daymond John and Barbara Corcoran remain.
John feels the valuation is too high, and calls the product "too rich of an investment," he's out. Barbara Corcoran is sold on Erwin's hustle, but she doesn't believe in the product. The final Shark is out, and Erwin leaves the stage with no deal.
Fitness Stride Shark Tank Update
Failure in the Shark Tank isn't always a death knoll to a product, but in this case, it seems that the lack of funding kept Erwin's product off the shelves. There are a myriad of similar products on the market, and without a patent in hand, or proof of the viability of his claims, Erwin wasn't able to sell the Sharks or keep Fitness Stride afloat. The website and social media pages are shuttered and dark. Fitness Stride appears to be defunct.
Posts about Fitness Stride on Shark Tank Blog
Similar Products Conflict with Fitness Stride Claims