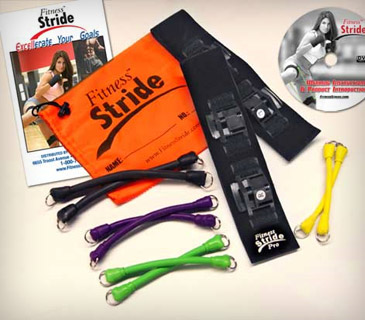 Stacy Erwin, Fitness Stride Entrepreneur brings a new fitness product you can use in a workout or at the desk. This product is extremely interesting and simply needs branding.
Kevin O'leary steps up and Erwin demonstrates the product works even when sitting still. Kevin could feel the tension. The product was telling a story while Stacy connected with the Sharks.
Stacey was asked if he has testimonials and he mentioned one woman who lost 100 pounds, but he left out the NFL football player Steve Martin and model/personal Trainer Micah LaCerte.  Naming those two endorsements would have been a big deal for Stacy to capture the attention of the Sharks.
He did not have a firm grasp on the valuation of the company looking shocked when Daymond John gave him the numbers. That's not good because we know The Sharks were left wondering what other numbers Stacy didn't understand.
The fitness industry is heavily saturated with products and services, making branding everything. I took a trip out to the Fitness Stride website which needs a complete overhaul. I'm not sure what the packaging looks like, but I would bet that also needs help. Robert stepped out as he quickly realized that Stacey will need several hundred thousand dollars to brand this product.
What surprised me most was Kevin Harrington walked away from this one. I really thought he would bite and bring this to infomercials, and when he didn't, I knew Stacy was going home without a deal.
Stacy should consider a complete overhaul on his website and shopping cart. He needs to hook up with an affiliate program management company and start offering this product through affiliate marketers online.
This has quite a bit of potential, but he needs to keep exploring. I believe he will be successful with the product, but he has some work to do. Stacey has a patent and a great idea. He just needs to finish.
Read More Shark Tank Reviews by clicking on " Shark Tank "