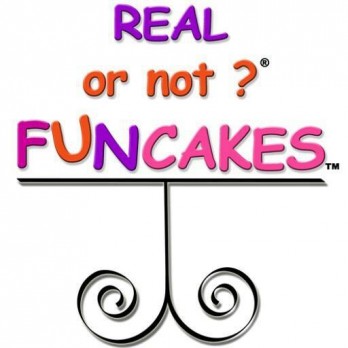 Mother and son "caketrepreneurs" Kimberly and Koray Aya want a Shark to take a slice of Fun Cakes Rental, their cake rental business, in Shark Tank episode 606 on October 10. Kimberly has been making and decorating cakes her whole life. She's taught at the SECCHIA Institute of Culinary Education, owned a cake shop in Europe, and appeared on Rachel Ray, The Today Show, Regis and Kelly, and more.
When she first came to the states, she became acquainted with American wedding cakes. She couldn't believe how expensive they were, so she started Fun Cakes. What Fun Cakes does is use a faux cake (Styrofoam) for the  levels of a cake. Real cake goes in the back of the display; brides pick up a cake locally that matches their Fun Cakes creation.
She rents the cake stand and faux cake only, she'll only do a real cake if you beg! She's the only cake "baker" in the world without an oven. Using Fun Cakes saves people up to 75% over having a huge, real cake. Whether you're planning a wedding or a special event, that kind of savings can be better spent elsewhere.
Fun Cakes currently ships internationally, but they're probably looking for a Shark to help them get broader recognition and distribution. Will Fun Cakes have fun in the Shark Tank?
Fun Cakes Shark Tank Recap
Kimberly and Koray enter seeking $285 K for 25% of their business. They call their faux cakes the future of wedding cakes. They've done $150K in sales in the current year. Mr. Wonderful calls them a "pimple on a teenager" in the wedding industry" and he hates the valuation. They announce a deal with 200 Jewel Osco grocery stores to carry their cakes, but the Sharks still don't like the numbers.
Lori doesn't like the idea, she's out. Mark thinks they should be doing over $1 million per year and calls them out for not being "grinders." Mr. Wonderful thinks fake cakes are "anti-love" and he goes out with "extreme prejudice." Robert quickly follows.
Barbara LOVES the idea, but she can't believe they didn't make more money. She isn't sure they can make it to the finish line – she's out too.
NO DEAL.
Fun Cakes Shark Tank Update
The Shark Tank Blog constantly provides updates and follow-ups about entrepreneurs who have appeared on the Shark Tank TV show. Since airing, Fun Cakes is selling a three-tiered cake in over 180 Jewel Osco grocery stores (part of the Albertson's chain) in Illinois. They're also in SpartanNash stores in Michigan. Kimberly says within 5 years, they'll be in thousands of stores.
The company had to pivot during the Covid-19 Pandemic. People who wanted cakes got to keep them!
As of August, 2021, they are celebrating their 14th year in business and have annual revenue of $1.1 million.
Posts About Fun Cakes on Shark Tank Blog
Kimberly won a Shark Tank Survival Kit on the Shark Tank Blog!
Company Information
Video