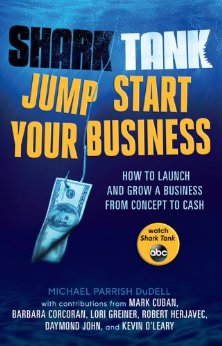 Once again, the good folks at AccountsReceivableFinancing.com have provided readers of the Shark Tank Blog with a great prize: a Shark Tank Survival Kit! To get a chance to win the Shark Tank Survival Kit, all you have to do is subscribe to the Shark Tank Blog Newsletter (use the form in the right column). When you do this, you are automatically entered into this contest and every other contest we run here on Shark Tank Blog. You can get an extra entry to this and every other contest we run by giving Shark Tank Blog a "+1" on Google Plus.
We have lots of great prizes lined up for season five, so don't miss out on your chance to win some great Shark Tank prizes!
Past Winner LOVES Her Shark Tank Books!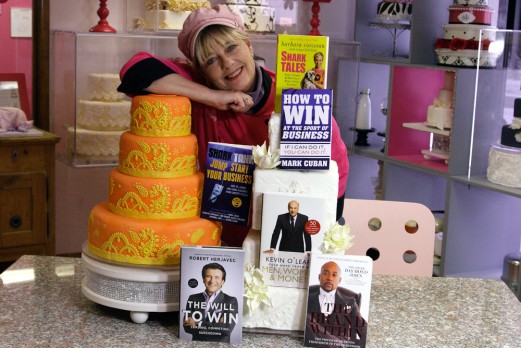 Here's the last winner of our contest, Kimberly Aya. Kimberly is the owner of a business called Fun Cakes, a cake rental business. She's been featured on CNN, Good Morning America, the Today Show, and more. Kim is a reader of The Shark Tank Blog and a HUGE fan of the show. Fun Cakes hopes they'll make it to Shark tank some day – Kim sent in a video and an application for season 6, so she's hopeful. Whether she makes it or not, the Shark Tank Survival Kit will surely help her business. GOOD LUCK, KIM!
What's in the Shark Tank Survival Kit?
The Shark Tank Survival Kit includes all the Sharks' books PLUS Shark Tank Jump Start Your Business by Michael Parrish DuDell.
From the ABC hit show "Shark Tank," this book-filled with practical advice and introductions from the Sharks themselves-will be the ultimate resource for anyone thinking about starting a business or growing the one they have. Full of tips for navigating the confusing world of entrepreneurship, the book will intersperse words of wisdom with inspirational stories from the show. Throughout the book, readers will learn how to:

Determine whether they're compatible with the life of a small business owner
Shape a marketable idea and craft a business model around it
Plan for a launch
Run a business without breaking the bank (or burning themselves out)
Create a growth plan that will help them handle and harness success
Pitch an idea or business plan like a pro
Books by the Sharks included in the Shark Tank Survival Kit include:
Anybody, from a seasoned business owner to a fledgling entrepreneur to a fan of Shark Tank, can benefit from the wisdom and business savvy contained in the pages of these books. Make sure you get your chance to win the Shark Tank Survival Kit, subscribe to our newsletter today.
Drawing will be held Monday, February 24. The winner will be notified by email. Good luck and enjoy the show!