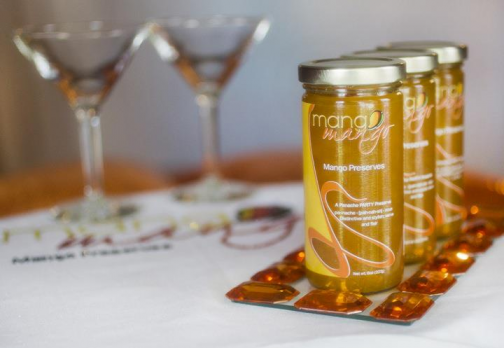 Mango preserves entrepreneurs Lakesha Brown-Renfro, Nzinga Teule-Hekima, and Tanecia Willis have a song and dance for the Sharks in episode 505 as the party planners turned jelly marketers present their product called Mango Mango. In the season five promo video, the three women are shown dancing into the tank singing "spread it, mix it , shake it, stir it!" They're presumably singing about the different ways to use their mango preserves.
The three women developed the product while running their party planning business. Mango Mango preserves were such a hit, they spun off the brand and made it a business unto itself. They sell it through a dozen or so Whole Foods Markets and other small foods stores in Virginia. The women are probably looking for some seed money to invest in increasing production to fill inventory and perhaps access to one of the Sharks' Rolodex.
My Take on the Mango Preserves Business
What the ladies have in Mango Mango sounds like a tasty product. I like mango ANYTHING, so mango preserves sound like a nice alternative to raspberry jam. I'm sure many people would love this product. What they'll need is proof of concept and their Whole Foods sales could make or break a deal.
They may not need the Sharks after appearing, though. Time after time, particularly with food products, the mere exposure on Shark Tank does several things: it creates immediate, national visibility, immediate demand, and it breaks down barriers to negotiations with food retailers. Food retailers are just as eager to jump on the Shark Tank effect, and they'll look at ratings and a business' web metrics following the show. Being the first retailer with a hot new product  can mean increased sales and, in some cases, more new customers going to a store. Just appearing can be the "big break" a fledgling food product business needs to get over that distribution hump.
What do the Sharks Think?
Is Mango Mango going to get the million dollar offer in episode 505? Unless they have huge sales and/or a very big pending order from Whole Foods, my instincts say no. They could garner some interest though, particularly if they're as savvy in business as they are with their song and dance intro. Robert usually doesn't go for food products; even though he has made offers and deals before (Back 9 Dips comes to mind), I don't think he's a player on this deal. Kevin is still weighing all the money he made with Wicked Good Cupcakes, so he could make a royalty offer if he likes the mango preserves and the ladies. Mr Wonderful said he likes "strong businesswomen," so the trio's first impression on him could be important.
Lori made deals with food product entrepreneurs before and she's dealt with supermarket distribution with Back 9 Dips, but her strength is consumer products, so I don't think she'll be a player. Daymond likes food products, but he's picky about who he partners with. He has some connections that could help the ladies though, so he may jump in too. Mark Cuban is forever kicking himself for not getting involved with Chef Big Shake's Shrimp Burgers, so if he has an inkling that Mango Mango could go national, he'll make an offer too.
Whether the three women make a deal or not, I think they'll sell a lot of mango preserves as a result of their appearance. I am all the way "IN" with some mango preserves spread on some warm whole grain bread!