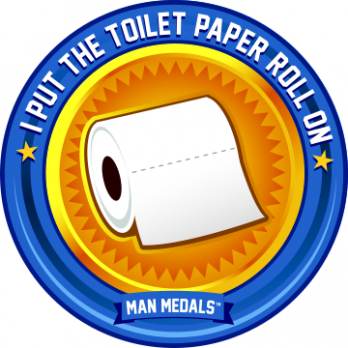 Now guys everywhere can get the recognition they deserve from the gals in their life when they earn themselves a Man Medal. If your'e a married man, your wife has undoubtedly said to you after you boldly announce the completion of some mundane household task, "do you want a medal?" Now, when she says that to you, you can say  "yes, I do," and she can get you a man medal of your own! Entrepreneur Jim O'Brien got the idea for Man Medals when his wife asked him if he wanted a medal for taking out the trash. Jim says "anything that makes you smile, laugh, or giggle, you either buy it or marry it." Jim is hoping Shark Tank fans smile, laugh, and giggle (and BUY) after he appears in episode 504 on September 27.
A Man Medal for Six Different Epic Chores
Jim created a Man Medal for six different heroic, husbandly chores: picking up dirty clothes, putting the toilet paper roll on, putting the toilet seat down, running the vacuum, asking for directions, and taking out the trash. While these may not be the most heroic actions, for many wives, they're little aggravations that cause some good-natured ribbing between spouses. Now, wives can amp up the sarcasm with a Man Medal. In all fairness, Jim has a non-sarcastic "coming home to be a daddy" medal for military husbands; that truly does deserve a medal.
I'm wondering where the Wo-Man Medals are! While I'm sure many women will get a kick out of  needling their men with a Man Medal, I'd like to see equal time. How about a medal for not leaving a hairbrush on the sink, or for taking down the panty hose drying on the shower curtain rod? Maybe we could have medals for doing dishes or tidying up; but  that type of humor may not sit well with the fairer sex. There could be "adult" medals too, rewarded for more "intimate" chores. The possibilities are endless. I think Jim is on to something here.
Will the Sharks want a Man Medal?
When I first looked at the whole Man Medal concept as a Shark Tank pitch, Steve Gadlin and his I Want to Draw a Cat For You business came to mind. Steve made a big pile of cash out of a fun idea. He was able to capitalize on the idea by the exposure he got in the Shark Tank and a $30K investment from Mark Cuban. Jim O'Brien has a potentially similar winner here. His concept is light, fun, inexpensive (just $5 a medal including shipping), and it could strike a chord with sarcastic wives everywhere. The advantage Jim has over Steve is making a Man Medal isn't as labor intensive.
I think this will be the fun pitch of episode 504. The Sharks may criticize and poke fun at it, but everyone will like it. It must be a profitable business, there's not much overhead and producing a bunch of medals probably didn't make Mr. and Mrs. O'Brien mortgage their house. Jim is most likely seeking exposure and a celebrity Shark partner to skyrocket sales. I'll bet he sells a bunch of medals on show night whether he gets a deal or not.
Any Shark could bid on this if the deal is right, but my money is on Mark Cuban. He had success with a similar, "fun" internet sales based business with Mr. Gadlin, so he could take a flyer on the Man Medal concept. Cuban invested $30K in I Want to Draw a Cat For You and got a nearly  immediate return. Seeing as Mark Cuban can drop more than $30K on dinner and not even blink, it's a safe bet for him. Whether Cuban or the other Sharks invest or not, I am most definitely "IN," even though I might not qualify for every Man Medal award!