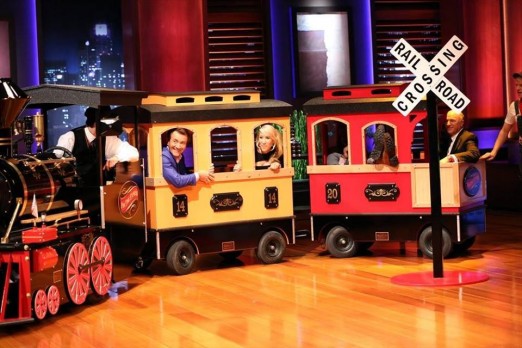 Stan Krozel and Kevin Ullery roll into the Shark Tank in their trackless electric train called The Fun Time Express in episode 524. The Fun Time Express is a high-end version of the trains you've probably seen at malls, tourist areas, and amusement parks for years. The difference is, the trains are designed so adults can fit inside comfortably and they boast "second to none" craftsmanship.
The trains aren't limited to tracks either. They operate in malls in seven states and don't need a track. A typical ride is 7-10 minutes long and runs the entire first level of a mall. The electric-powered engine is a replica of the American 4-4-0 steam locomotive, complete with whistle and faux steam. The company makes its trains in the USA and offers a business opportunity for people who want to run a business of their own.
They are likely looking to the Sharks for help with franchising and cash for expansion.
Fun Time Express Shark Tank Recap
Stan and Kevin enter seeking $125K for 20% of the business. As of their pitch date, 5 trains are in operation with projected sales of $900K. The Sharks are skeptical about how well they can scale the business, but Lori likes the idea and goes in for half of the $125K; but she needs another Shark to join her.
Mr. Wonderful offers to team up with Lori and together they offer $125K for 20% of the business – exactly what Stan and Kevin were asking for!
Fun Time Express Shark Tank Update
Since appearing on Shark Tank, they expanded from 5 to 8 locations with plans for more. In 2018, they closed the business down and returned to the real estate business.
Posts About Fun Time Express on Shark Tank Blog
Company Information