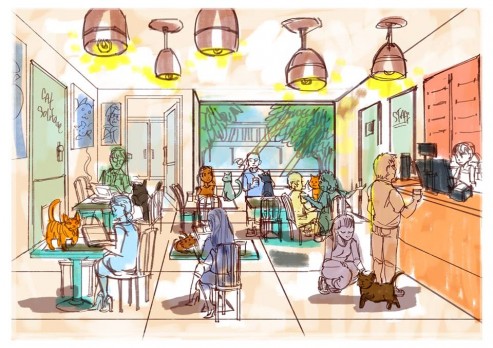 Adriana Montano hopes to open Florida's first Cat Cafe, called Gato Cafe, and she's looking for a Shark's help when she pitches the idea in Shark Tank episode 623, the season 6 finale. Gato Cafe seeks to emulate the cat cafe trend, which is big in Asia and is gaining momentum in Europe. Basically, it would be like any other coffee shop/cafe, but with cats roaming around. Fans of the Amazing Race will remember a sequence in a cat cafe in Thailand from the current season.
Ms. Montano tried crowdfunding her idea last June and July (2014), but her Indie GoGo campaign didn't come close to its $75,000 goal: she only raised $1,210. To date, the cafe has not opened, but Montano remains hopeful. She recently tweeted: "Exciting news to come! Keep your eyes open! Meow! #catcafe #thismayhappen #flcatcafe," on the Gato Cafe Twitter page. The Indie GoGo campaign ended in mid-July of 2014 – around the time she would have been taping Shark Tank.
Ms. Montano is likely seeking funds to make her dream of opening Gato Cafe a reality. In a worst case scenario, cat loving Shark Tank fans could rally to a new crowdfunding cause in the aftermath of her appearance. Does the Gato Cafe reel in a Shark and secure an investment?
Gato Cafe Shark Tank Recap
Adriana enters the Shark Tank seeking $100,000 for 20% of the business. She has a bunch of kittens with her, which Lori and Nick think are cute. Daymond, Lori and Nick each get a kitten to play with, but Mark and Kevin want no part of them.
Mark, chuckling at the whole concept, says he likes cats but not this idea; he goes out. Kevin says they should have the cafe on an upper floor so they could open a window and easily get rid of them. Adriana admonishes him for his mean comment. One way she would make money is charging a $9 admission to  the cafe.
Nick says he likes the idea and Daymond notes cat cafes are very popular in Japan. Kevin says he doesn't like cats and goes out. Lori likes what Adriana is trying to do, but she still goes out. Daymond follows. Nick says he'd visit the cafe, but he's not sold on the concept; he's out too.
Gato Cafe Shark Tank Update
The Shark Tank Blog constantly provides updates and follow-ups about entrepreneurs who have appeared on the Shark Tank TV show. This business never got past the concept stage and the cafe never opened.
Posts About Gato Cafe on Shark Tank Blog
Company Information
Video