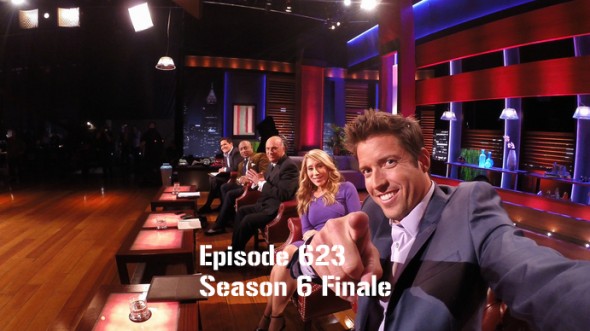 GoPro Billionaire Nick Woodman returns as a "guest Shark" in episode 623, the Shark Tank season 6 finale, as four new businesses vie for an investment. David Patrick and Zack Fleishman ask the Sharks to help them reinvent the wheel when they pitch Shark Wheel, a "square" skateboard wheel. Adriana Montano seeks an investment for Gato Cafe, what she hopes will be Florida's first coffee shop with cats roaming around inside. Joe Wilcox hopes to sway a Shark to invest in Sway Motorsports, his three-wheeled, battery-powered scooters for urbanites. Chris Ruder seeks a slam dunk when he asks the Sharks to invest in Spikeball, a new sport that's starting to catch on nationwide.
Will these businesses sink or swim in the Shark Tank?
Update segments are a regular feature on Shark Tank. The episode 623 update segment features highlights from season six. The most memorable pitches and deals will get into this segment as part of the hype for Beyond the Tank.
There are 28 Shark Tank Episodes for Season 6. This season features the six "regular" Sharks and a host of other surprises. Casting is currently closed, but it never hurts to get a head start on season seven! If you would like to appear on the show, check out our Auditions and Casting information.
Episode 623 – The Shark Investors and Entrepreneurs
The Shark Tank Episode 623 entrepreneurs will make their best pitch to the panel of five Shark investors who will use their own money if they choose to invest. The Shark Investors negotiate on the spot without any previous information, which differs from typical negotiations between venture capital investors and entrepreneurial start-ups.
Companies pitching the Shark Investors must go through a rigorous due diligence process before an on-air deal is completed. Shark Tank Blog follow ups help you keep track of the companies that end up successful and the ones that don't complete their deal.
Thank you for reading SharkTankBlog, the number one site for Entrepreneurs, Investors and Fans. Our content updates multiple times day, giving you the latest information on Episode 623, Season 6, and all other seasons and episodes.
Episode 623 Press Release
SEASON FINALE

GoPro FOUNDER AND CEO NICK WOODMAN IS A GUEST SHARK, ON ABC'S "SHARK TANK," FRIDAY, MAY 15

There Will Also be Recaps and Updates Featuring Viewers' Favorite Entrepreneurs that Appeared Throughout the Season

"Episode 623" — Young billionaire Nick Woodman, Founder and CEO of GoPro, returns to the Tank bringing his business and investment expertise as a Guest Shark. A cat lover from Boca Raton, FL hopes to find the purr-fect partner to invest in her idea where patrons can enjoy adorable rescue cats while relaxing at a café; a toy designer from Mountain View, CA has an all-electric compact vehicle that merges the thrill of a motorcycle with an added degree of maneuverability; a Lake Forest, California company claims to have literally reinvented a wheel that they say has scientifically proven performance advantages over the original. Also, recaps and updates featuring various entrepreneurs that appeared in Season 6, on FRIDAY, MAY 15 (8:00-9:00 p.m., ET) on the ABC Television Network.

The Sharks in this episode of "Shark Tank" are Mark Cuban, Daymond John, Lori Greiner, Kevin O'Leary and Guest Shark Nick Woodman.