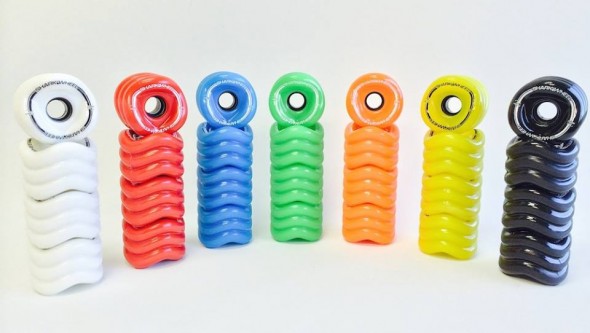 David Patrick and Zack Fleishman hope to reinvent the wheel when they pitch Shark Wheel, a "square" skateboard wheel, in Shark Tank episode 623. The wheel isn't exactly a square, it's a combination of a cube, a sphere, and a three-dimensional sine wave. Patrick got the idea for the wheel from a shark's jaw, a shape that appears over and over in nature. The unique shape of the wheels allows skateboarders to smoothly ride through gravel and other rough terrain and have better traction in wet conditions – without sacrificing speed or maneuverability.
Patrick got the Shark Wheel off the ground quickly in the Los Angeles Cleantech Incubator, "the business equivalent of baseball's farm system." LACI is a non-profit business incubator that offers LA area start-ups mentoring, office space, and assistance raising capital. Mr. Patrick learned well: he successfully raised over $79,000 on a $10,000 goal on Kickstarter back in 2013; he also raised another $27,000 on Indie GoGo in April 2015.
David sells his products in skate shops, on Amazon, and through their website. A set of four Shark Wheels will set you back $45-$70, depending on the style; Shark Wheel also sells skate boards and wheel mounting hardware. Patrick, along with his CEO Mr. Flieshman, are likely looking for cash to fuel their expansion and to fund production.
Will David square a deal with a Shark?
Shark Wheel Shark Tank Recap
David and Zack enter the Shark Tank seeking $100,000 for 5% of their company. They show a couple of wheels and say nobody has improved on the wheel in 5000 years, until now. They show their wheels on skateboards, a stroller and a wagon and say they are selling them worldwide.
Lori, Nick and Kevin come onstage to try the wheels out. The stroller and wagon wheels are just prototypes, only the skateboard wheels are in production. Kevin wants to know if the world needs this solution. David says his wheels are faster and his wheels will go over any terrain. They've sold $183,000 in sales over four months. Each wheel costs $12 and sells for $69.
Kevin doesn't know if it's nutbar factor 6.2 or a great idea. He offers $100,000 with a 10% of revenue royalty until he makes back $500,000 plus 2.5% of the company. Lori thought the wheels were wobbly and watching them makes her dizzy; she's out. Daymond offers, $100,000 for 20% contingent on licensing the wheels. Nick offers $100,000 for 15% contingent on one of his skateboarding buddies "taking them for a rip."
At this point, they reveal they have other investors.  They've raised $603,000 and three investors came in at a $10 million valuation. When Daymond hears this, he withdraws his offer.
After a break, Kevin asks Nick to join him in his deal but he'll raise the offer to $150,000 for the royalty plus 5%. Mark says he wants in, so Kevin ups it to $225,000 – $75,000 per shark  – plus the $500,000 royalty which will be split three ways. The Sharks will split 7.5% equity – 2.5% per Shark. Dave and Zack agree.
Shark Wheel Shark Tank Update
The Shark Tank Blog constantly provides updates and follow-ups about entrepreneurs who have appeared on the Shark Tank TV show. The Shark deal never closed. In summer, 2017, they raised $627,728 on the equity crowdfunding site Start Engine. Harley Davidson put Shark Wheels on some of their luggage, too.
In February, 2020, they raised $80,754 on a Kickstarter campaign for their own electric skateboard. Those were delivered in September 2020 after some customs delays due to the Covid-19 pandemic. In July, 2020, the company won a Phase II SBIR NSF Government Grant ($724,000) for its farming wheel application.
As of January, 2023, the company is selling skateboard wheels, skateboards, longboards, electric skateboards and luggage to consumers. They're now offering their farming wheel on a pre-order basis. Annual Revenue is $3-$4 million.
Posts About Shark Wheel on Shark Tank Blog
Shark Wheels Inventor David Patrick Interview
Company Information
Video