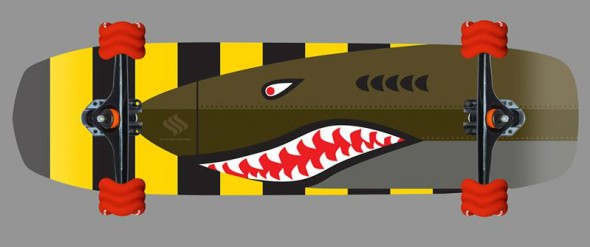 While talking to David Patrick before he aired on Shark Tank in the season six finale, I was surprised to learn that Shark Wheels were invented by accident. He wasn't seeking to "re-invent the wheel," he was in the process of re-inventing the turbine. David founded a company called 4Sphere, which makes "alternating wake turbine products." In short, they make turbines that make no wake, don't vibrate, occupy a small footprint, and offer 5000% higher efficiency over traditional turbines.
The 4Sphere turbines utilize a sine wave structure that can be used in propellers, energy recovery, desalinization, and more. He came up with the idea for the turbines in 2008. "The shape of the turbine prevents the blades from slamming into wake from the previous blade and creates a neutral, non-cavitating propeller," he explains.
Four and a half years later, someone dropped a turbine in the shop and a piece broke off. The broken piece rolled slowly and evenly across the floor – like a wheel. "That's when the light bulb lit up," says Patrick.
Mr. Patrick, in addition to being an inventor, is an avid skateboarder. "I've been a skater my whole life," says Patrick, "I was a Burton Skateboard ramp 'power rider' in the seventies and eighties. When someone handed me a longboard, I couldn't believe the Cadillac-like ride. When I saw that piece of a turbine roll across the floor, I knew we had something. Shark Wheels are essentially one-fourth of a 4Sphere turbine and I immediately had our CAD programmer make a duplicate wheel."
Patrick patented the Shark Wheels design – just like he did with 4Sphere – and a new business was born. "I knew we could prove the concept with the long boarding community and I knew if Shark Wheels could perform, we could best what was already out there."
"We got the word out on discussion boards and social media sites like Silverfish Longboarding and the 'haters' bashed us for six months. I knew Shark Wheels could out perform what was out there, so we sent out 33 sets to the biggest 'haters' out there. Once they tried them, they loved them and they started defending us big time!"
"The way the turbine – and Shark Wheels – originally came about was the golden ratio, which appears again and again throughout nature. The shape of a Shark jaw inspired the turbines and, consequently, the wheels. I basically took that single thing, made it 3D, and ended up making key discoveries. It's fundamental stuff and my design solved lots of problems. I don't have an engineering background, but my dad IS THAT GUY. He's an aeronautical engineer, and he validated the initial design. Since you're able to patent usable shapes, I was able to build a business."
"Shark Wheel didn't set out to be 'the square wheel' or the company the 'reinvented the wheel.' The media stuck those tags on us. Initially, I hated it; I didn't want to be a gimmicky company, but now I'm OK with it."
As far as other applications for the Shark Wheels design go, they're working on 5 inch wheels – a standard size on strollers, coolers, shopping carts and more – but don't expect car and motorcycle tires any time soon.
"It's a low friction wheel that performs and goes over all types of terrain. Our wheel design keeps the wheel on top of the surface, rather than cutting into the surface like regular wheels. We can apply that to things like baby carriages so they can travel over grass or sand more efficiently. It's one thing to make a $70 skateboard wheel, but making motor vehicle tires could take 10 years of regulatory approval. We could potentially license the tread design."
From Shark Wheels to Shark Tank
"I like Shark Tank, but I'm building two businesses and I have a wonderful, beautiful wife and family, so I don't have the opportunity to watch 'that kind' of television. My business partner, Zach Fleishman, is a HUGE Shark Tank fan. He applied for season five and I guess we didn't make it. Apparently, he applied for season six, but I wasn't aware he was doing it until we got a call from a producer to make a video. We taped last September."
"I didn't really watch the show or do anything to prepare because I felt I knew my product and my business. I also know myself, and when I've been over prepared in the past, it's hurt me. I've been through the fire and I knew I could defend myself intelligently. I knew I wasn't going to get tripped up, but they can edit it any way they want. Even the promos are edited, they show a Shark 'saying' something to me and that Shark wasn't even in the room when we pitched! I enjoyed doing the show, and I'm excited to see it, but I'll never do it again!"
"Shark Wheel is profitable. We did about $380K in sales in 2014 and we should double – perhaps even triple that this year. I don't know what Shark Tank will do for our business, but we're revamping our website to handle the traffic on show night. 4Sphere is profitable too – in fact it's for sale and we are in the middle of the due diligence process."
Words of Wisdom
I almost seems like Shark Wheel doesn't need a Shark, they're doing quite well without one, but David does have some advice for would-be inventors and entrepreneurs:
"The trip from idea to production is never easy, because there's no rule book. If you believe in the product and you believe you'll succeed, it's worth every failure. You have to treat every failure as a success and understand it comes with a lot of pain."
I'm going to catch up with David after the show, but in the mean time, I had one more question for him. He answers it on The Hot Dog Truck.