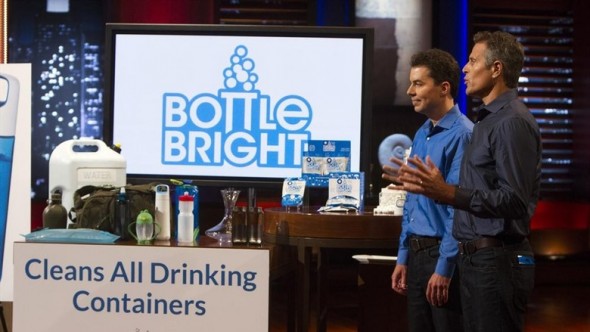 I was intrigued by the nimble cleaning power of BottleBright for reusable containers. I had a lot of issues, however, with the Shark Tank segment. From the odd critiques from the Sharks to the presentation by entrepreneurs Justin Koehneke and Seth Friedman, I thought this was a very unusual segment.
Critique of the BottleBright critiques
"Nobody gives a damn" Kevin O'Leary
Kevin's comment about consumers not caring about this product was really off base. We don't live in a disposable world anymore. Reusables are everywhere and anyone who uses them regularly understands the rampant grime build-up in difficult to reach areas. Robert's comment that they haven't proven demand was more constructive.
"I think you created enormous mistrust…when you said you lost $100,000 in year three" Barbara Corcoran
Core to their mission, BottleBright was attempting to push the boundaries of ecological packaging. The biodegradable film developed didn't work as intended and they did a full recall. A recall in an early stage company speaks volumes to their business ethics. They took a painful loss. They put ethics ahead of profits. This would make me trust them more, not less!
"You come across as being desperate" Mark Cuban
I was fine with Mark's usual "you don't have a company" reprimand, but the desperate comment? Perhaps their desperation was edited out because nothing in their presentation came across that way. There was no pleading, no inappropriate crying. It was a cheap "out." If you didn't want to invest, don't try to wrap it in a desperate move.
Missed Opportunities for BottleBright
All the blame doesn't land on the Sharks. I was also disappointed with the presentation by BottleBright.
"We'll use the $75,000 for administration" Seth Friedman
Anyone who has watched Shark Tank regularly knows "administration" or "hiring more staff" is the answer the Sharks really detest when asked how you will spend their money. If they are going to invest in your company, they want to know the money is driving the business forward…not to "finally pay yourself." That day will come soon enough.
Incomplete demonstration
Nowhere in their presentation or on their website, do they explain how to clean the long tubes. There's so many little parts involved with the reusable containers, I think they missed an opportunity by explaining that those pieces can be cleaned as well. Or can they? I don't really know.
Giving Back
Spend 10 seconds on their website (cleanethics.com) and you learn about a side of the company that wasn't even mentioned in their segment. With every purchase, Clean Ethics gives the same amount of BottleBright to people in vital need of clean water containers. Understanding this side of the business would have nullified all of the Sharks' critiques.
Just when we thought BottleBright would be sent home without a deal, Lori sweeps in to save the day. She didn't give them capital, she promised to fund their purchase orders and take 33.3% equity. Just a reminder folks, this is a type of financing that's available to every business with a credit worthy PO. We've seen the Sharks offer purchase order financing time and time again. Many businesses use it every day to fund large orders, but the difference outside the Tank is you don't give up equity! I just cringe realizing how many businesses don't use purchase order financing as a tool to move their business forward. Granted, Lori with her QVC connection is the right Shark for this product, but it was at a steep price.
Dan Casey, founder and CEO of purchaseorderfinancing.com, believes every business has a story to tell. He's been listening and helping small businesses grow exponentially since 2002 using a creative combination of finance tools. He's been featured in publications including Entrepreneur Magazine, Entrepreneur Online, Small Business Trends Online, The Washington Post, Crain's Chicago Business & American Express Open Forum. 

Visit www.purchaseorderfinancing.com and be sure to mention Shark Tank Blog to get a free subscription to Fast Company or Entrepreneur magazine.*

 

*Must qualify for financing to receive special offer exclusively for SharkTankBlog.com readers.