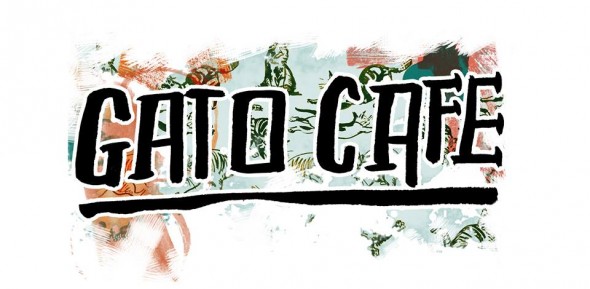 Adriana Montano channels her "inner crazy cat lady" in Shark Tank's season six finale when she pitches Gato Cafe, her "cat cafe" concept. Montano likes cats and she likes the growing, world-wide trend of the cat cafe. Popular in Asia and gaining momentum in Europe, a cat cafe is just a coffee shop with a crapload of cats milling around. Patrons find the cats a soothing addition to coffee with a friend.
Adriana tried getting her dream off the ground in July 2014 when she ran an Indie GoGo campaign to open the first cat cafe in Florida. Unfortunately, she fell well short of her $75,000 goal and wasn't able to get the project off the ground. The campaign caught the eye of Shark Tank producers who contacted Ms. Montano and encouraged her to try out for the show.
To her credit, she hasn't let the dream of opening a cat cafe die. I get the indication that there is a lot of interest in the concept, but she didn't do a good enough job selling the Indie GoGo campaign. An appearance on Shark Tank could very well be the impetus to get the project rolling again. Deal or not, if she ran a campaign after appearing on the show, she'd likely have more success.
Since she was only seeking $75,000 on Indie GoGo, she'll probably be looking for a similar amount in the Tank. $75K isn't a whole lot of money by current Shark Tank standards, so she may have a shot at catching a Shark with cats!
My Take on the Cat Cafe
I am not fond of cats; I'm a dog guy. Cats like me though – whenever I go to my brother's house, his cat snuggles up to me. I usually shoo it away – because I don't like cats.
I certainly don't wish cats any harm: a few years ago, we had a lot of feral cats and kittens in our woods and I contacted a local lady who works with them. Her name – no kidding – was "Anna Banana" and she placed all the kittens we trapped into good homes. She also spayed the adults and re-released them. We still see the resident, calico momma cat in and around our property, but she's stopped pumping out kittens. I don't mind the feral momma cat so much because she keeps the chipmunk population down!
Despite my efforts to rid the neighborhood of feral cats in a humane way, I'm still not a cat guy. I certainly wouldn't go seek out a cat cafe and have the feline hosts and hostesses crawling around while I sip espresso and munch on a biscotti. Despite the appeal for cat lovers, I have to believe the Florida Health Department would not view a cat cafe favorably. I'm sure they'd do a good business – for some reason cat cafes are killing it overseas. I guess there are enough cat lovers out there to make it a viable business concept, but I'll stick to Dunkin Donuts!
Do Sharks like Cats?
A coffee shop isn't a very investable business, at least not one. A chain of coffee shops could be interesting to the Sharks though. If Adriana has a plan and a vision for a chain of cat cafes, she might get some interest. One shop isn't going to cut it for a Shark though.
The trump card could be a cat loving Shark. I am not aware of any of the Sharks' attitudes towards felines, but I am willing to bet there's at least one cat loving Shark on the panel. Cat people are a passionate bunch and if Montano wants $75K for a sizable chunk of the business, she might get an offer.
The more likely scenario is the Gato Cafe will be a quirky, funny, entertaining pitch that doesn't result in a deal. That said, if Montano has another Indie GoGo campaign ready to go on show night, she could realize her dream without a Shark.