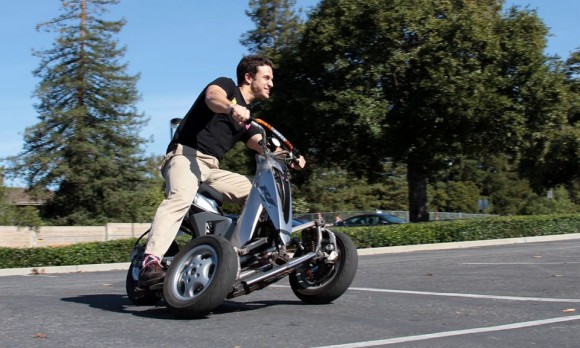 Joe Wilcox hopes the Sharks get on for a ride when he pitches Sway Motorsports, his line of electric, three-wheeled motor scooters, in Shark Tank episode 623, the season six finale. Sway Motorsports scooters are powered by rechargeable, lithium batteries and have a range of 40-60 miles per charge, depending on the model you choose. What makes Sway Motorsports unique is the steering mechanism: instead of turning handlebars, the rider leans, or sways, in the direction they want to turn. Wilcox describes it as "somewhere between skiing and motorcycling."
The scooters are designed for the urban rider who wants an inexpensive way to get around town, but craves something a bit more stable than a traditional scooter or motorcycle. The design of the scooter makes it unnecessary for the rider to put their feet down. The third wheel means there's 50% more braking power, too. City riders need maneuverability, and the Sway delivers; it fits into motorcycle parking spots as well.
Wilcox works on the scooter business in his spare time, when he isn't functioning as a designer at IDEO Toys. A Rhode Island School of Design alumnus, Wilcox also worked at NASA's Johnson Space Center and MIT on a variety of "space related" projects. Sway Motorsports is in limited production and if you want one, you need to reserve it with a $100 deposit, even though there isn't any pricing listed on the website.
Mr. Wilcox likely wants a Shark to help fund production to keep costs down. Can he sway a Shark and get an investment?
Sway Motorsports Shark Tank Recap
Joe enters the Shark Tank seeking $300,000 for 10% of his company. He shows how the scooter works, then shows a video of it in action on the streets. Kevin asks the price and Joe says $7999. He's in the Tank for help with manufacturing. His goal is to manufacture it and sell it through dealerships. He's pre-sold $350,000 and hopes to deliver on those within a year.
He has patents on the Sway and thinks people won't be able to get around them. Kevin says he'd be waiting 10 years to see if these ever get made; he's the first Shark out. Daymond has concerns about maintenance; he's out. Mark says it will either be a huge success or never get made; he's out. Nick thinks it's cool but he doesn't think he'll see a return on his investment; he's out.  Lori doesn't see what she can bring to the table; she's out. Mark offers that some businesses have a chance to come back to the Tank after undergoing growth and Joe says "why not invest then?" He asks Mark to do $300,000 for 20% and Mark agrees.
Sway Motorsports Shark Tank Update
The Shark Tank Blog constantly provides updates and follow-ups about entrepreneurs who have appeared on the Shark Tank TV show. The deal with Mark never closed. Joe never made any scooters and shut down the company in 2018. As of August, 2021, the website is still up but social media has not been updated since 2017. As of May, 2022, the website is dark too. As of July, 2022, the website is back, but still no scooters. In January, 2023, the situation remains unchanged.
Posts About Sway Motorsports on Shark Tank Blog
Company Information
Video