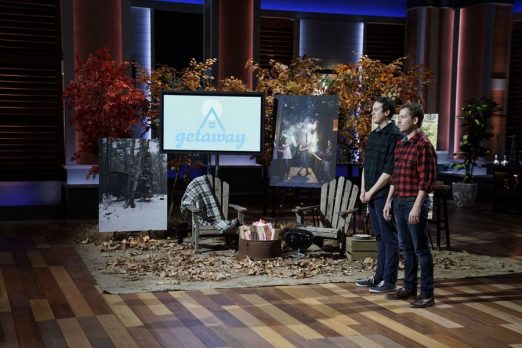 Pete Davis and Jon Staff want the Sharks help growing Getaway, their company that rents tiny houses for vacations in secret locations. The pair started the business in the greater Boston area with three tiny homes: 160-200 square foot, elegant, custom designed tiny houses on wheels. They recently opened a second location in New York. In each city, the Getaway houses are within a two-hour drive of downtown.
They keep the location secret until shortly before each booking to alleviate the stress of vacation planning. Locations are in secluded, wooded areas to allow guests to get away from the stresses of modern life. Each tiny house has the bare necessities for a weekend get away and come fully stocked with food for the length of the stay.
Each booking costs between $99 and $129, depending on the nights booked. That price is for two guests. Extra guests and dogs cost an additional fee. Business is booming. A quick look at their website shows there are no available weekends until July, 2017 (this page was originally written in January, 2017). The Getaway guys likely want a Shark to help them expand to other cities. Will a Shark want to invest in this big idea with tiny houses?
GetAway Shark Tank Recap
Pete and Jon enter seeking $500,000 for 5% of their business. They describe their business and tell the Sharks they want to be nationwide. Kevin wants to know if they lease the land the tiny houses are on – they do. People still have privacy, even though multiple tiny houses are on the same property and there is a caretaker nearby in case of emergency.
It costs $30,000 to build one tiny house and they get their money back in about 18 months – a number that's coming down with higher occupancy. Mark scoffs at their 100% occupancy rate because they only have ten houses. When Chris asks about previous funds raised, they reveal they raised $1.2 million at a $7 million valuation. Their current round of funding they are looking at a $12 million valuation. They are giving the Sharks a discount!
Next year, they project $2.1 million in sales. Mark asks them where they want to be in five years and they reply they want to be in 30 cities. After a discussion about depreciation, Kevin offers a $500,000 loan at 11% over three years in exchange for 2.5% equity. Barbara goes out after the offer. Mark says he would have to continue to invest for repairing the houses and he goes out. Lori thinks it's not safe, she's out too.
The pair addresses Sacca and Kevin gets antsy. He says they need to decide in ten seconds. Chris says he'll do $500,000 at the $7 million valuation (around 7%) and Kevin went out. After talking amongst themselves, Jon and Pete decline Sacca's offer and leave with no deal.
GetAway Shark Tank Update
The Shark Tank Blog constantly provides updates and follow-ups about entrepreneurs who have appeared on the Shark Tank TV show. After the show aired, GetAway's web traffic spiked. In a year since the air date, they now have 80 cabins in New York, Boston and Washington DC. That's a far cry from 30 cities, but increasing eight times in two years isn't bad. The guys claim they "don't want to rush it."
In June of 2019, they received a $22.5 million venture investment to build out more locations. The 2020 Covid-19 pandemic saw their sales increase 150% because people were looking for "safe" getaways. As of May, 2021, they did another round of venture funding for $47.5 million bringing their total venture funding to $81 million. They are now in 17 metropolitan areas. Annual revenues are $30 million and Jon thinks they will be a billion dollar company someday.
The company introduced getaway campgrounds in 2022. These are campsites with functioning toilets and showers, a covered cooking area, firepits and Adirondack chairs. You may bring your own tent or rent one of theirs. Campgrounds are located in the Catskills, NY and in Moss, TN.
As of August, 2023,  they've added 8 new locations bringing the total to 29. The company has over 1000 cabins scattered across all those locations. Most locations have 30-40 cabins scattered over as many as 500 acres. Annual revenue is $41 million.
Posts About GetAway on Shark Tank Blog
Get Away Tiny House Vacation Rentals
GetAway Company Information
Video