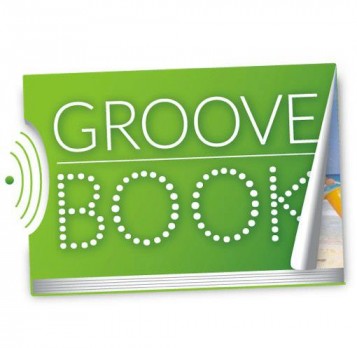 Julie and Brian Whiteman pitch their instant photo book app called GrooveBook in episode 515 on January 10. The couple created the app to allow people to create photo books from their smart phone photos without thinking. Once you download GrooveBook, the app automatically prints a photo book from all your smart phone pictures each month and mails them to you for a $2.99 per month shipping/subscription fee.
The app prints photos on the 12th of the month, so there may be repeats, the max is 100 photos. You can order multiple books and you can set up photos on your computer to synch with your smart phone so they'll print every month. You can skip a month or cancel at any time. Other than ordering extra prints and books, the $2.99 per month covers you each month.
The Whiteman's are likely looking for strategic partners and some cash from the Sharks.
GrooveBook Shark Tank Recap
Julie and Brian came in asking $150K for 20% of their business. What makes GrooveBook so cheap to ship is a "proprietary groove" that makes the books flexible, allowing for a lower rate.  The Sharks like the over 18,000 subscribers they acquired in the past 8 months, but they don't like the slim margins. Each GrooveBook costs $2.30, so they only make 69 cents per order.
Robert and Daymond worry about the commercial printing side of the business and both go out. Mark offers $150K to license GrooveBook to the Flikrs and Shutterflys of the world. Kevin offers to buy the whole business for $750K, but the Whitemans feel the business is worth $6 million; Kevin then retracts his offer.
Mark and Kevin step aside and pow wow about teaming up while Robert comes back in – this time with Lori – and offers $375K for 50%. Mark and Mr. Wonderful then counter with $150K for 80% of licensing rights only. Brian and Julie take that deal!
GrooveBook Shark Tank Update
GrooveBook EXPLODED after appearing on Shark Tank. Their sales tripled in just 5 days following the show. They had so much success, they are scheduled to appear in an update segment in episode 526.
In November, 2014, Shutterfly acquired Groovebook for $14.5 million, making this a very big Shark Tank Success Story! This acquisition makes GrooveBook the biggest deal on the show. A second update is scheduled for episode 620 in season six.
In the episode 620 Update, they show the meeting where Groovebook got $14.5 million from Shutterfly. Not bad for doing a deal only a year earlier on Shark Tank. It's the biggest deal in Shark Tank history to date! In April, 2022, Shutterfly ceased operating the Groovebook service for undisclosed reasons.
Posts About GrooveBook on Shark Tank Blog
Company Information