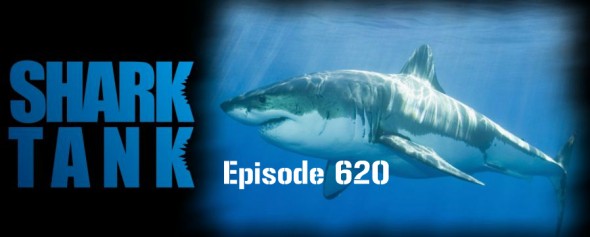 It's "ladies night" once again as Barbara and Lori join Mark, Kevin, and Robert in episode 620. They'll hear four new pitches from hopeful business owners seeking an investment. Deborah and David Meniane from Victoria's Kitchen hope to seal a deal for their Almond Water based on a recipe from grandma Meniane. Wesley Laporte and Dan Barnes want to clean up with PhoneSoap, a product designed to clean and sanitize cell phones. Aaron McDaniel pitches Tycoon Real Estate, a real estate crowd funding platform. Ned Kensing and Jennifer Wright-Laracy want the Sharks to invest in Greenbox, their 100% recycleable, eco-friendly pizza box that can be repurposed as a leftover storage container.
Will the Sharks bite at one of these businesses?
Julie and Brian Whiteman left the Shark Tank with a deal for GrooveBook in episode 515 in season five. Mark and Mr. Wonderful gave them $150K for 80% of the licensing rights. Since then, the Whiteman's had quite a year. They were featured in an update segment in episode 526 and in November, 2014, they announced they were acquired by Shutterfly for $14.5 million. The episode 620 update gives fans the details on their new deal.
There are 28 Shark Tank Episodes for Season 6. This season features two new Sharks and a host of other surprises. Casting is currently closed, but it never hurts to get a head start on season six! If you would like to appear on the show, check out our Auditions and Casting information.
Episode 620 – The Shark Investors and Entrepreneurs
The Shark Tank Episode 620 entrepreneurs will make their best pitch to the panel of five Shark investors who will use their own money if they choose to invest. The Shark Investors negotiate on the spot without any previous information, which differs from typical negotiations between venture capital investors and entrepreneurial start-ups.
Companies pitching the Shark Investors must go through a rigorous due diligence process before an on-air deal is completed. Shark Tank Blog follow ups help you keep track of the companies that end up successful and the ones that don't complete their deal.
Thank you for reading SharkTankBlog, the number one site for Entrepreneurs, Investors and Fans. Our content updates multiple times day, giving you the latest information on Episode 620, Season 6, and all other seasons and episodes.
Episode 620 Press Release
WHICH ENTREPRENEUR'S PITCH PROMPTS MARK CUBAN TO SAY,

"IT'S HORRIBLE, HORRIBLE, HORRIBLE!" AND AN UPDATE ON THE BIGGEST DEAL

IN THE SHOW'S HISTORY, ON ABC'S "SHARK TANK" FRIDAY, JANUARY 30

"Episode 620" – Transplanted Parisians based in Los Angeles, CA have an almond water beverage line from their grandma's recipe which they hope will tantalize the Sharks. A duo from New York City pitches their eco-friendly pizza box that is 100% recyclable and can be repurposed to become serving plates and leftover storage. An entrepreneur from San Francisco has a business he calls a "game changer in real estate investing," and cousins from Orem, UT try to sell the Sharks on their solution to sanitizing germ-ridden cell phones. Also, an update on the Chatsworth, California couple, Brian and Julie Whiteman, and their photo saving product, Groovebook, in which Kevin O'Leary invested in during Season 5. Since appearing on the show, they've gone on to make the biggest deal in show history and have come into a life-changing windfall, all on "Shark Tank," FRIDAY, JANUARY 30 (9:00-10:01 p.m., ET) on the ABC Television Network.

 

The Sharks in this episode of "Shark Tank" are Mark Cuban, Lori Greiner, Barbara Corcoran, Robert Herjavec and Kevin O'Leary.