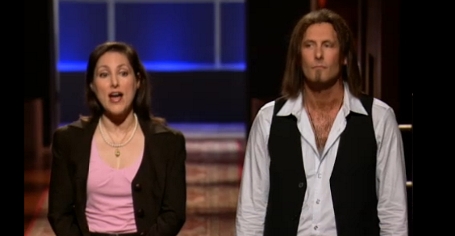 Marix Stone & Dr. Nancy Tanchel pitch Hells Bells Helmets in Shark Tank episode 112. Hells Bells Helmets makes and sells patented, custom designed, 3-D sculpted motorcycle helmets. Stone is a sculptor who's been designing helmets since 1993. He pioneered the idea of made to order motorcycle helmets and his patent allows him to put 3-D designs on all kinds of helmets. All their helmets are DOT certified.
Stone and Tanchel are looking for a Shark to help them get into mass production.
Hells Bells Helmets Shark Tank Recap
Marix and Nancy enter the Shark Tank seeking $500k for 20% of their business. Stone begins by saying if you have to wear a motorcycle helmet, it might as well look cool. Then the cat grabs his tongue. After a few uncomfortable moments, Dr. Nancy jumps in and explains they will do $300K in sales for the current year. The 50% profit margin impresses the Sharks.
Unfortunately, the profits aren't impressive enough. Neither Kevin H. or Mr. Wonderful – they don't see the potential and they're both out. Barbara isn't a fan of hard-core biker gear, so she's out too. Robert likes the helmets, but thinks the price is too expensive for an "unproven" business. That leaves Daymond.
Daymond thinks Hells Bells Helmets can make money licensing their technology to other helmet manufacturers. He offers $500K for 50% of the business and Stone and Tanchel accept.
Hells Bells Helmets  Shark Tank Update
Hells Bells Helmets did not close their deal with Daymond. The "real" offer was $500K in manufacturing and licensing costs for 50% of the business. There was some back and forth with Daymond after the show, but a deal never got finalized.
Hell Bells Helmets still makes custom helmets and now employs several other fabricators in their Philadelphia workshop. They've expanded to creating 3-D custom gas tanks and fenders for motorcycles. They created some custom helmets for the FX TV "Sons of Anarchy," a show about outlaw bikers.
As of July, 2021, the company re-branded itself to Bad Ass Helmets. They sell on their website, in Harley Davidson stores and many independent cycle shops. Annual revenue is $12 million.
Company Information
Twitter