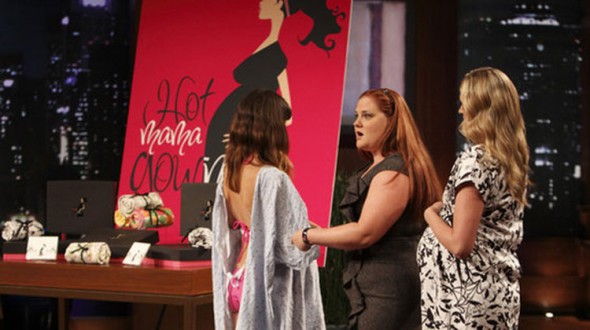 Deidrea Haysel pitches Hot Mama Gowns in episode 205 of the Shark Tank. Haysel's idea was born while she was in the hospital with her daughter. The shapeless, medicinally scented, uncomfortable hospital gown made it difficult for her to breastfeed her daughter and made her feel frumpy during her postpartum stay. She was forced to wear two gowns to try to cover herself.
Upon being discharged from the hospital, Haysel immediately began designing gowns made of organic cotton. Frustrated with the limited selection in maternity wear, she created Hot Mama Gowns in sizes from 2-24, to better accommodate the wide range of women's body sizes and shapes.
Hot Mama Gowns Shark Tank Recap
Haysel comes into the Shark Tank seeking $30,000, for 20% of Hot Mama Gowns. She presents models, one wearing a traditional gown, and one wearing one of her own design. She begins her pitch by describing her own experience and expressing her passion for the product, but when the Sharks start questioning the market potential, she has all the right answers.
Maternity clothing is a billions-of-dollars a year business, that has experienced 12% growth every year, explains Haysel. Her own sales, however, are a bit slim. She's sold $11,500 in two years in business. Daymond John immediately questions her valuation.
She explains that she has about $20,000 in materials, with no debt. She claims to have made the sales with no advertising, and that retailers are calling her, looking to stock her gowns. Barbara Corcoran is skeptical, but Haysel maintains her enthusiasm, explaining that she's limited by her need for a distributor. She hasn't come to the Sharks looking just for an investment – she needs business connections and distribution channels to grow her business.
Question Time
Robert Herjavec questions how she's going to create a marketing program with the amount of money she's asking for. Kevin O'Leary believes she doesn't have a business "just an idea." He says it's "a long road" between an idea and a business, and he's not willing to take it. He's out.
Barbara Corcoran wants to know why she hasn't considered offering a "one-size-fits-all." Haysel explains she serves a wider size range than the average maternity wear. Daymond John believes Haysel "has all the answers." He's out. Her inability to answer questions about the cost of obtaining customers, and her persistence in arguing with the Sharks is working against her. Kevin Harrington believes she's working "part time" on the business and asking him "for full time money." He "can't get over the part-time situation." He's out. Only Barbara Corcoran remains.
Corcoran is ok with the sales so far, but she feels Haysel is too "close-minded," but she is willing to make an offer for $30,000 for 40% in the company, on the condition that Haysel is willing to offer three sizes, small, medium, and large.  Haysel thinks 40% is too high. Corcoran retracts her offer, and Haysel leaves the Shark Tank with no deal.
Posts about Hot Mama Gowns on Shark Tank Blog
Hot Mama Gowns Prediction/Preview
How's Hot Mama Gowns Since Shark Tank?
Hot Mama Gowns Shark Tank Update
After the Shark Tank, Haysel expressed disappointment, but said she turned Corcoran's offer down because she didn't feel that limiting the size range served the vision of the brand.
Despite her defeat in the Shark Tank, Haysel continued growing her business slowly through online sales and retail outlets. She's been able to reduce her price point from $119 to $69-89 per gown, and Hot Mama Gowns are still available through her website.
In 2013, Haysel closed the business.